Flatley Offers to Shave His Head for Dance Marathon
By Colene Gibson
April 25, 2011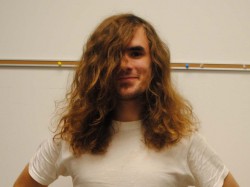 In honor of Dance Marathon's fundraising for Refugee One, Flatley offered to shave his head if students and staff can raise $5,000.
The $5,000 cannot be overall fundraising money, though.  It needs to be specifically donated to Flatley shaving his head.  There will be jars outside the cafeteria during lunch periods this week, or money can be donated to a large jar in Student Activities Director, Jessica Ogulnik's office.
"I figured if I could raise some money for some refugees it's more important than having beautiful curly locks," said Flatley.  "The more money donated, the more likely I am to straight out bald myself, but I'm not really sure about a haircut like Macejak or Perez yet."
Ogulnik supported Flatley in his decision and hopes he can inspire students to donate to a great cause.
"I'm pretty excited about this," said Ogulnik.