Literature of Peace and Nonviolence: An Alternative Perspective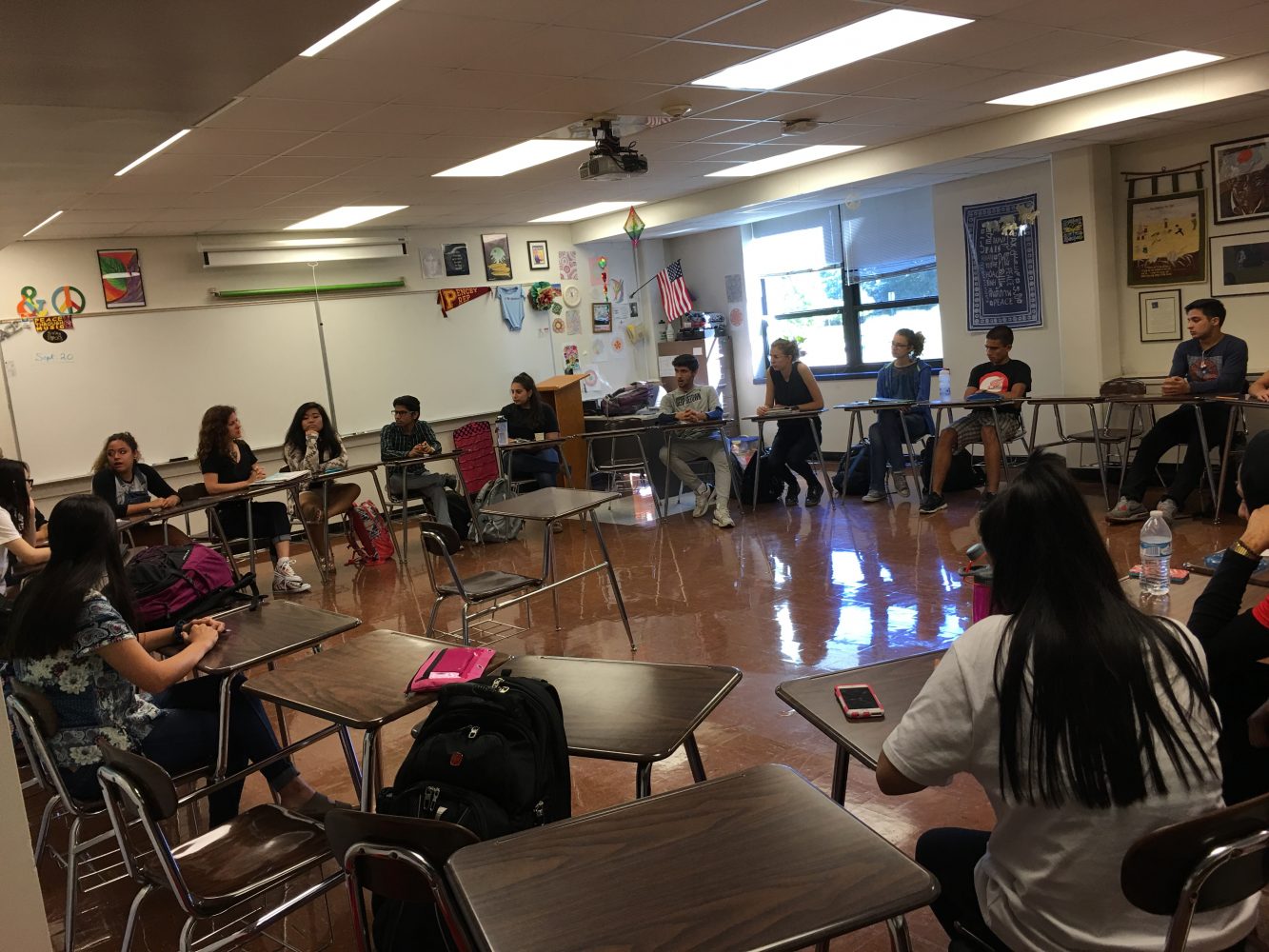 By Farheen Khan
September 29, 2016
Homelessness, feminism, and the jail system. These are just some of the topics discussed in the Literature of Peace and Nonviolence class. The desks are moved to form a circle, and teacher Dena Lichterman greets her students with a smile and begins class by asking her students how they are, and if they have any announcements. She then moves on to what she has planned for the day.
This discussion-based class was started about 10 years ago by three teachers in order to provide an alternative to classes that talk about violence.
"Initially, this class was created by three teachers — me, Mr. Wack, and Ms. Schulman, who used to teach English at Niles North. We decided that because their students are [provided] with classes that deal with violence, we wanted to give an alternative to that, and so from there, this class was created," Lichterman said.
There's a lot going on in the world right now, and this class provides students with an opportunity to openly discuss with one another their views on various issues. It also provides students with a different perspective than normal.
"I think [this class] is important for a couple of reasons," Lichterman said. "One, because I think it gives, again, a different perspective than what we're used to. Students are so overwhelmed with discussions and lessons and education that deal with violence, and I wanted students to have an alternative view to that. But I also think it's important because it gives students a space to discuss what's going on in the world right now. We look at very current issues in a non-traditional setting in the classroom. For example, we sit in circles, it's discussion-based, and so I think it's a great opportunity for students to learn from each other, and to explore issues that perhaps haven't been discussed in classes before."
Lichterman said she loves the idea of students discussing topics that aren't normally talked about.
"I love everything about this class. I love that it's discussion-based, I love that students come with an open-mind or willingness to learn about topics they've never thought of before. I love the topics that we examine, like the working poor, homelessness, animal rights, conscious eating, feminism, the prison system, I just love that we are discussing topics that students may not have thought about before in a very comfortable but yet profound way," Lichterman said.
Students like the idea of being able to share their opinion, even if other people disagree.
"I think the best part of the class is the welcoming environment and even if people have opposing viewpoints, they're able to share it, and I feel like it makes people grow and gives them more of an opinion on conflicts," senior Hana Comor said.
Students said they are comfortable in the class and they like how it can help them in the future.
"My favorite part of this class is how open we are when we have discussions," senior Haley Balderas said. "When we have whole class talks, I really like that we aren't forced to say something when we are not comfortable with speaking and not have points taken away for participation, but we do have to speak in small discussions with small groups in which we can get our full points. One last part I really like is the topics and readings we have in the class in which we can adapt to the world we are living in today and try to make a difference."