10 Reasons Why I'm Excited for Grey's Anatomy
Hang on for a minute...we're trying to find some more stories you might like.
It's that time of year again! In case you haven't heard (how could you not?), the 13th season of Grey's Anatomy is premiering this Thursday. I've been anxiously awaiting this episode since May 19, aka the day the last episode of season 12 aired. In honor of 13 great seasons, I've compiled a list of the 10 best moments and characters of the show.
Warning, spoilers ahead!
#1: We all miss George.
How can you not miss 007? The way he left was tragic, and I can't deal with anyone sacrificing himself for an innocent person. He had a huge heart, and no one can ever replace him. We love ya, O'Malley.
#2: Jackson and April are expecting.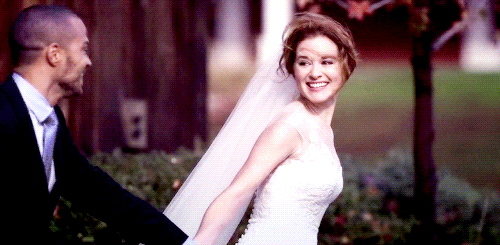 After the miscarriage that this dream couple had, it seemed like all hope was lost. Jackson and April did get pregnant again after a long recovery period. Things were beginning to look better, but the arguments about how to raise the baby were destructive to their relationship. It eventually ended in divorce, despite April's many attempts to salvage the broken pieces of their love. But the day of the divorce paper signing, April found out she was pregnant. During the last episode of season 12, April has to unexpectedly deliver her child. Does this mean that #Japril will become a thing again? I sure hope so.
#3: Speaking of kids, Meredith's are adorable.
First came Zola, who was definitely a cute addition to the family. Ellis and Bailey are also the perfect kids. The Shepherds are family goals.
#4 : MCDREAMY
First George, now McDreamy. How can you forget the first episode when Meredith and Derek met in that bar and had what they thought was a one night stand. Little did they know that they would be working at the same hospital. At least it all worked out for the best. While his hair will forever be the greatest part of the show, I cry every time I think of him saving the people involved in that car accident. Why does Shonda Rimes always have the worst things happen to the best people?
#5: Lexie and Mark, together forever.
Alas, another death. Who can forget about the actual goals that Lexie Grey and Mark Sloan were? After the airplane accident, it was all downhill for their health, but their relationship still stays intact. At least they didn't suffer for long without each other's company.
#6: Bailey left her unsupportive husband.
Remember the guy that Miranda was with before Ben? He was unsupportive and ungrateful for all the hard work and effort that she put into her job. When she wanted to pursue a fellowship in Peds, Tucker threw a huge tantrum, as if he thought he was little Tuck, her child. I'm so happy she found Ben and that he's the best husband that Bailey could ever have.
#7: Burke left Cristina, but they reconnect in Switzerland. The first wedding that happened in this series was Burke and Cristina's, but that never went through. Cristina couldn't bring herself to walk down the aisle, and Burke was not having it. He left the altar, packed his things, and left without any warning. It was always a mystery where he ended up, but luckily, when Cristina's conduit worked, she got invited to a conference in Switzerland. It was there that she met Burke again and was offered a job at one of the greatest cardio thoracic research facilities in the world. Sadly, Burke was already married, but Cristina didn't want a relationship anyway. Now they're a pair of cardio gods.
#8: Izzy left Karev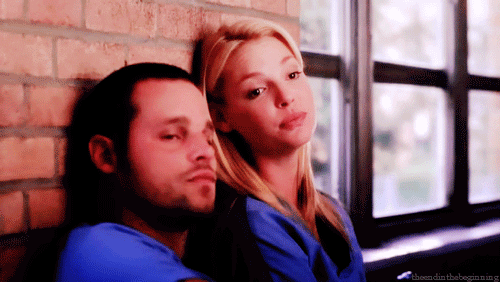 I'm actually so happy that this happened. Sure they were super cute, but Izzy was not right for Alex at all. Jo and Alex bond a lot better, and they're like missing puzzle pieces. Besides, neither of them will ever leave each other, like Izzy did. She broke Alex's heart, and that is not okay.
#8 : Calzona!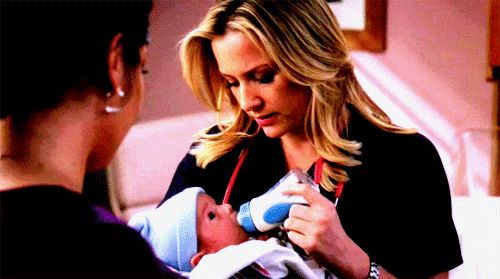 When Callie and Arizona got together it was a momentous time in Grey's. They lasted so long despite all of their troubles. Having Sofia really brought these two together, but it also drove them apart. Throughout the 12th season, Callie started dating Penny, who ended up receiving a research opportunity in New York. Callie decides that she'll take Sofia to New York when they decide to leave, without consulting Arizona. They end up making up at the end of the 12th season, so we'll just have to see what happens.
#9: Amelia and Owen.
During the 12th season, one of the Shepherds left, but another one was added. Amelia is Derek's younger sister, who is just as good of a neurosurgeon as he was. Amelia meets Owen during the time he is still coping with the loss of Cristina. Owen is Amelia's support system as she navigates through sobriety. Their wedding is scheduled on the last episode of season 12, so the premier will most likely pick up where it ended.
#10: Adele gets Alzheimer's
During one of the later seasons, Adele comes into a hospital after hitting her head while putting up Christmas decorations. However, this was not around Christmas time, which sparked curiosity in many of the doctors at Grey-Sloan. Later on, they discovered that Adele has Alzheimer's. It eventually got so bad that she found a new boyfriend at the home she was staying at. This left Richard heartbroken. Luckily, Catherine Avery turns out to be a great girlfriend, despite living 3,000 miles away. If the Chief is happy, so am I.
I wish I could watch all 12 seasons over again to refresh my memory on all of the drama that went down. Be sure to catch the season 13 premiere this Thursday on ABC at 8/7 c. As always, it's a beautiful day to save lives.