Royal Wedding Doughnut: We'd Rather Eat Tea and Crumpets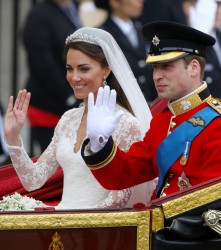 Earlier today, Prince William and commoner Kate, now Catherine Duchess of Cambridge, Middleton exchanged their vows in Westminster Abbey in London. Millions of people internationally tuned in to the live coverage of, what some people say, the wedding of the century. In honor of the wedding, Dunkin' Donuts sold a limited edition Royal Wedding Doughnut this week at participating stores. Apparently, the owner of the Dunkin' Donuts company is British. Do you care about the Royal Wedding? Let us know by commenting or taking our homepage poll!
Five NWN staff members taste tested the Royal Doughnut, and here's what they had to say about it:
The Royal Wedding Doughnut is nothing spectacular. I was expecting something English, fancy, and expensive that screamed royalty. I have half ready to see it resting on a dollie. Even though "America runs on Dunkin," the royal English doughnut bore the same resemblance to the same old boring stereotypical American doughnut. Aw, it's in the shape of the heart. Just like at Valentine's Day. The sugary frosting, colorful red and pink sprinkles, and dough is the same you get any other old day of the year. There was a single strip of chocolate icing on top. Woo-hoo. The unidentifiable strawberry &/ raspberry filling would not be served at Buckingham Palace. This doughnut isn't even about  to roused the Palace guards. If I had closed my eyes, I wouldn't have known this was a "special" or "limited edition" doughnut. I wouldn't have imagined myself in London with William and Kate.
By Morgan Gstalter
Everyone loves Dunkin' Donuts, it's what America runs on. So naturally, when they announce that they're coming out with a doughnut to honor Prince William's wedding, we can't help by anticipate something great. Unfortunately, my expectations were too high. If you were to close your eyes while sinking your teeth into it, you would think that you're eating just another jelly-filled doughnut with some frosting plastered on the top. It was very carelessly made, and the taste wasn't original at all. The doughnut may look royal with its heart shaped casting and intricate designs, but it tastes like any other doughnut.
By Alyssa Guzman
The Royal Wedding doughnut is more novelty than anything. The doughnut is heart-shaped, with white and black stripes of frosting, and a raspberry jelly filling. The color of the jelly might symbolize love, but I instead thought of a bleeding heart. The Royal Wedding doughnut is exactly like Dunkin' Donuts' jelly-filled doughnut, but with frosting in lieu of its usual sticky sugar coating, and is in a heart shape instead. While a great "souvenir" for American fans of the royals, it's basically the same as all other doughnut and can be passed over without much regret.
By Ali Toth
While the doughnut, the epic Royal Wedding Doughnut, is quite delectable, it does not appeal as anything different from the other Dunkin' Donuts' doughnuts. Actually, it is not different at all. Sure, the doughnut looks different, being heart-shaped, but the white, vanilla frosting and the chocolate drizzle does not taste different from the other vanilla and chocolate frosting on other doughnuts. Even the strawberry jelly filling doesn't taste any different. Basically, the Royal Wedding Doughnut was tasty, but nothing special.
By Fatima Farha
From the fancy exterior of the Royal Wedding doughnut, you would think that Dunkin' Donuts actually did something differently to the recipe. WRONG. Although the doughnut is heart-shaped, white frosted, and has strawberry jelly inside, it still tastes like any other Dunkin' Donuts' pastry. The only thing that differentiates the Royal Wedding doughnut from any other doughnut is its appearance. While a regular jelly doughnut has granulated sugar coating its exterior, the Royal Wedding doughnut has white frosting with a few thin chocolate stripes. Seriously, if you blindfolded someone and fed them the Royal Wedding doughnut, followed by a regular jelly doughnut with frosting, the person will find absolutely NO difference between the two. If you are looking for a pretty doughnut, buy the Royal Wedding doughnut, but if you want taste, go elsewhere because the Royal Wedding doughnut has nothing extraordinary.
By Rebecca Yun