Vachee Loughran: Swim, Bike, Run
Hang on for a minute...we're trying to find some more stories you might like.
[youtube]https://youtu.be/a6BPeJXEI6w[/youtube]
To massive cheers, Niles West special education teacher Vachee Loughran ran through the finish line at the Chicago Triathlon — after a .93-mile swim, a 24.8-mile bike, and a 6.2-mile run. He performed this feat this past Aug. 28, finishing with an amazing fourth-place time of two hours, three minutes, and fifty-two seconds.
Loughran, who has been competing in triathlons for over 20 years, began participating as a way to challenge himself.
"I started competing in triathlons in 1995," Loughran said. "I did my first triathlon more as a personal challenge and to see if I could finish one."
Twenty-one years later, Loughran took fourth place in the Transamerica Chicago Triathlon's International Premier division. Regardless of the gratification of winning, Loughran enjoys training for the triathlons he participates in.
"The training is enjoyable, believe it or not," Loughran said. "Some people have all kinds of hobbies; my hobbies are training for races. I usually put in six to eight months of training before the season starts."
Training and competing would not be possible for Loughran without the support of his family. They've been a huge part of Loughran continuing with his competitions. His support system also extends to the classroom with special education paraprofessional Jan Gillono, who's been working closely with Loughran for a decade.
"He's a world renowned triathlon athlete, but he's very humble about it," Gillono said. "As far as his students, he's always trying to get them to be the best they can be because he has pushed himself to be the best he could be in the sport."
With his fourth place in the Chicago Marathon, it's clear that Loughran has indeed pushed himself to be his best. The dedication he's put into bettering himself has helped Loughran to apply that same dedication and motivation to his students. Every day, there's a different quote on Loughran's door about persevering or staying motivated. In class, he tries to give his students real-life situations where education will help, according to paraprofessional Micheal Leaks. Leaks attended the Chicago marathon as well.
"I got there around eight o'clock — another friend was starting at that time — and because [Loughran] ran with the elite squad, they took off pretty early, around six. And there's this app actually that monitors all of the athletes and where they are, so I actually got there just around the time he was finishing up the race," Leaks said.
Whether he's in his classroom helping his students or running marathons in the streets of Chicago, Loughran is motivated and always striving to be his best. While many of us can't run insane marathons, Loughran's perseverance is something that can inspire us all.
About the Writer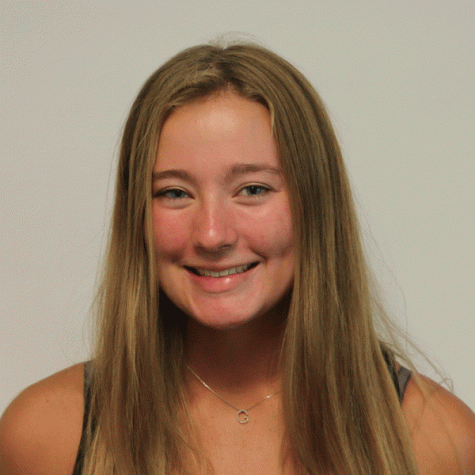 Grace Geraghty, Editor in Chief
Grace is a senior in her third year on Niles West News, where she is the Editorial Editor in Chief. Outside of NWN, she can be found figure skating, at...