Annual Fall Band Concert To Be Held Tomorrow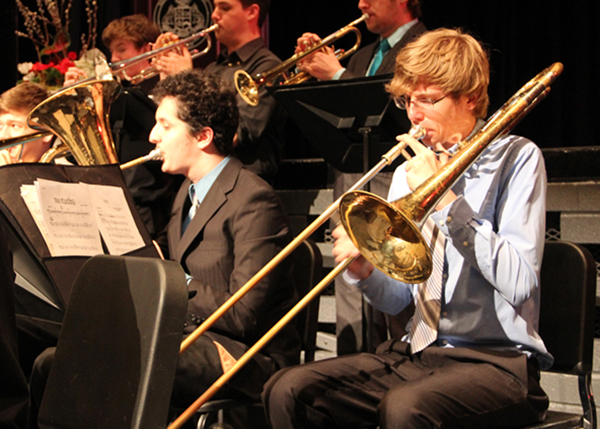 By Lisa Jahjah
October 24, 2016
Lights turn on, and everyone's eyes are on the brightly lit stage. The conductor, Justin Johnson, begins to swing and wave his arms to direct his group of student musicians. It's the annual Fall Band Concert.
This Tuesday, Oct. 25, will be hosting the annual fall band concert in the Auditorium. The expectations are set high for the musicians, and they are expected to do as well as possible.
"I expect the absolute best from my musicians, but that is what I'm expecting," band instructor Johnson said.
Currently, there are 120 students involved with Band, and all of them must work together to play effectively and in sync. The pressure is on for some students in band this year. Last year Niles West had three students that qualified for the Illinois Music Education Association (ILMEA), which is the District 7 honors band.
This year, band has has been working on improving overall communication through the music, like making sure everyone is on the same page, articulating the same way and focusing on dynamics. They are still currently getting their parts, putting the pieces together and making sure it all matches up.
There were many new members that joined band this year, but band has still been improving, and the first-year students feel they are prepared for this upcoming concert.
"I'm not really nervous for the upcoming concert. I've been playing and performing for a while now, so I'm not nervous," freshman Brian Pryzby said. "I also think this concert will be interesting because we're combining different groups that usually don't rehearse together, so I think it'll be good."
Niles West's band program also has other categories of music besides classical, like Jazz band, Marching band and Pop 'N Rock. Pryzby, who currently plays the clarinet in regular band, has also decided he would like to try out with piano for Jazz band as well.
The new freshmen aren't the only students in band that are not feeling nervous for this concert — the majority feel the same way, meaning they're confident in the way this fall concert will turn out.
"I'm not nervous for this upcoming concert, usually it's just the auditions that are the nervous part, but the concert itself is not that bad," senior Brandon Gligor said. 
This upcoming concert is expecting an audience of more than 300 people with just parents alone, so come support your peers this Tuesday at 6:30 p.m. in the Auditorium as they play their hearts out.