Meet Me in a Minute: Lily Gussis
A hush goes over the crowd as the music starts to swell in the black box theater. The lights shine on the actors' faces as they begin the first scene. Throughout the whole play, the lights have a magical effect on the atmosphere. At the end of the performance, the audience gives a standing ovation to the cast, but there are some people who are not recognized for their work.
Sophomore Lily Gussis, the 'Master Electrician' for Almost, Maine, considers herself to be a theater geek. Her passion for theater has been growing since she was young, and was first sparked by her love of Disney Princesses.
"When I was little, the Disney princesses inspired me to love singing, but my friends ultimately helped me to join theater when I was in third grade," Gussis said. "Now, one of my favorite Broadway actresses is Sierra Boggess. She didn't come from a big city or anything, and she made it because of her talent."
While most people struggle to keep their grades up, Gussis manages both her grades and extracurriculars. Theater is known as one of the most time-consuming activities at Niles West, and it sometimes ends as late as nine o'clock. She has a rigorous course-load which can be a burden itself, along with the long school days.
"It's definitely difficult because of how much time theater takes up and the levels of the courses I'm taking," Gussis said. "The trick for me is keeping my schedule open, not procrastinating, and not getting enough sleep. Just kidding, but not really. I always try to start projects and big assignments early and get other important assignments done during my study hall or lunch. It's not the best method, but I manage to mostly have A's even with my limited time to do my homework."
Sophomore Violet Gilbert, a fellow Niles West Theater member, thinks that Gussis is a valuable part of productions. Gilbert and Gussis have been performing together since elementary school, so they believe they know each other's strengths pretty well.
"She [Gussis] always has a positive attitude and wants to learn. She's a very fast learner which makes her helpful, and uses her knowledge to teach new people," Gilbert said.
Gussis feels that she has a knack for teaching, but she does not want to give up on her dreams of pursuing theater.
"Obviously it is a dream of mine to pursue theater as a full-time career, but I also want to teach theater in high schools, like what Mr. Sinclair does, so that I can teach the next generation of actors," Gussis said. "My grandma was a teacher, and my mom is, too, so a love of teaching is just in my blood. I figure it's the best way to do two things I love and have a passion for!"
Longtime friend and sophomore Shannon Berg admires Gussis's contributions to the stage as well as to loved ones.
"Lily is one of the most responsible and kind people I have ever met. She cares so much about her friends and family," Berg said. "She has so much passion for theater and she always wants to give her best. Lily is the first person I go to if I'm having a problem because she never judges anyone and has such an open heart."
Despite all of the sacrifices Gussis has made for theater, she knows that it has changed her life for the better.
"I used to swim, and I still have a huge love and appreciation for swimming and swimmers. I made the difficult decision freshman year to give up swimming to pursue theater. With all the early practices and meets, I wouldn't be able to put my 100 percent into both swim and theater. I chose what I wanted to have in my future rather than something I do as a hobby to keep me busy," Gussis said. " But I truly believe I wouldn't be the person I am today had I never joined theater. I owe a lot of my confidence to theater, along with other skills I've developed along the way, such as easily presenting in class, being able to analyze text, and speaking in front of crowds."
Lily Gussis has already been involved in five theater productions at Niles West, and plans on being a part of many more in the future.
About the Writer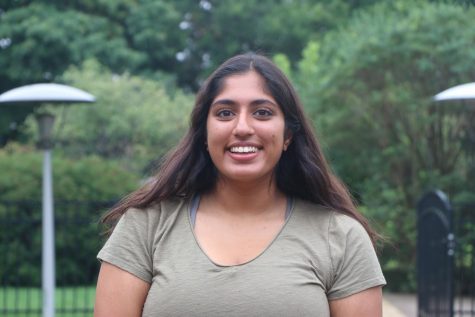 Divitya Vakil, Editor in Chief
When she's not writing for the NWN, Divitya can probably be found on the nearest couch taking a nap or binge-watching movies on Netflix. She loves playing...