Fall Choir Concert to be Held Tomorrow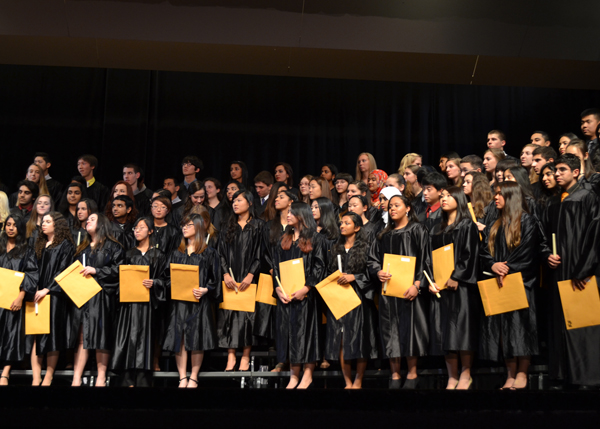 The Niles West Choir program will be holding their annual fall concert this Tuesday, Nov. 1 in the auditorium at 6:30 p.m.
Senior and master singer Deborah Kim is very excited for her final fall concert with Niles West after four years with the program.
"Being able to hear the other groups [is my favorite part about choir]. I think it's cool to see what other groups make up the choir program," Kim said.
Freshman Madelaine Foler has admired the high school singers for years, and she can't believe that she's finally one of them.
"This upcoming concert is very exciting for me. I love the songs Concert Choir is going to be singing, and I'm especially excited to wear the robes for the first time," Foler said. "As a middle schooler, looking up to all the high school singers in their robes made me want to be up there with them, and it's really special to me that I finally will be."
Junior Julia Gladysz has had a great time in her previous concerts, and she can't wait for the upcoming one.
"At the Pasta and Pops concert, it was really fun to sing modern music, and at Artzapalooza it was cool to watch other art groups perform," Gladysz said. "I can't wait for the one on Tuesday."
The concert is free, and all four of the choirs — Choraliers, Chambers, Concert, and Masters — will perform, as well as the three a capella groups: High Fidelity, Guys & Dolls, and Echo Effect.