National Honors Society Induction to be Held on Wednesday
The National Honors Society (NHS) Induction will be held on Wednesday, Nov. 9 at 6:30 p.m. in the Robert L. Johnson auditorium. A total of 75 students will be inducted into the highly competitive and prestigious organization.
To become eligible to be admitted, students must have completed the fifth semester of their junior year at West, have a minimum of a 3.89 weighted GPA, approximately 20 hours of community service, and quality traits that would embody those of a leader.
According to co-coordinator of the event Mr. Daniel Gin, the students who are being inducted have positively impacted the school through their academic diligence and honorable character and the induction is a means of acknowledging their achievements and hard work.
"It gives them a sense that their hard work — their scholarly attitude, leadership, voluntarism through the community, and their character — has paid off," Gin said. "Their peers and faculty notice that they are doing something different to make West a better place."
The NHS is a place were leaders in both academics and their community are recognized and are called to gather in order to create a positive change in the school and their surroundings.
"I am grateful that I go to a school that recognizes high-achieving students," NHS president Hae In Kim said. "I believe that National Honor Society is where the brightest students can gather and make a difference in our community."
Senior Asma Akram, a student being recognized this Wednesday, is glad that she is being recognized for her ambitious attitude. Though she's endured many difficult courses, she believes that her ability to adapt and work hard for the things she finds enjoyable is the reason she's receiving this honor.
"It feels good to be recognized for all the long nights, hard work, and dedication I have put into school. It's a good way to seal my last year of high school. Maintaining my GPA and being in various activities has been the hardest thing to do and as my courses got more difficult, balancing activities, especially my leadership roles in them, got harder as well," Akram said. "I have stayed determined by understanding what impact my choices will have on my future and that if I love something, I should put all my effort into it. This is the mindset I have with three of my most important clubs, which I became president of this year: Mock Trial, Book Club, and Choir Board."
Once admitted, students will attend weekly meetings every Friday to look for opportunities in raising money for the holiday season and completing countless other community outreaches.
Along with Akrim and Kim, the other students who will also be inducted are the following:
Hana Alali, Mustafa Ali, Maitri Amin, Moreene Beatrice Apolona, Jacqueline Baik, Charlotte Barnes, Kristeen Bebla, Kathleen Bianchi, Viana Chau, Hope Cherian, Nicole Cho, Tia Chung-Swanson, Hana Comor, Samuel Conkle, Deven Damji, Olivia Dang, Huimin Dong, Allison Fair, Xiaojun Gao, Jessica Gassel, Tijana Gataric, Gabriela Gladysz, Konstantine Hatzopoulos, Anna Heins, Nicholas Ieremciuc, Weronika Jozwiak, Erin Kaihara, Carolyn Kedryna, Sedra Khan, Deborah Kim, Hae In Kim, Aisha Kothawala, Maria Kuo, Athanasios Lappas, Isabell Lazar, Quynh-Mai Le, Amanda Lee, Gregory Leftakes, Michael Leon, Carolyn Lomahan, An Luu, Merima Mackic, Labiba Mahmud, Alexandra Mancini, Karina Marin, Raciel Millan, Jason Morgan, Duyen Ngo, Brendan O'Shaughnessy, Desmond O'Shaughnessey, Lesley Ongyaco, Nathaniel Park, Janki Patel, Niket Patel, Philip Rapoport, Grace Reczek, Alexa Robertson, Jamie Rodica, Camille Rowe, John Saba, Vijay Shah, Hailey Shapiro, Vraj Shroff, Emily Silber, Andrew Simovic, Joshua Sirbu, Claire Stephan, Nicholas Stochmal, Gabriela Tellez, Bianca Tomuta, Chatianya Vakil, Sebastian Villegas Mejia, Refah Zabin, and Xiaojia Zhang. 
About the Writer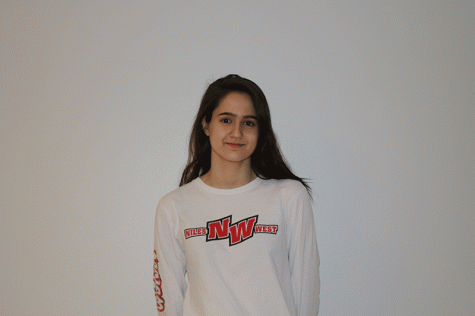 Adisa Ozegovic, Staff Writer
As a self-proclaimed book fanatic, senior Adisa Ozegovic enjoys re-reading David Sedaris' short stories in the late evenings while savoring her favorite...