Niles West Student-Athletes Commit for National Letter of Intent Signing Day
From after school practices to those on weekends and even holidays, Niles West student-athletes have always worked immensely hard, leaving everything they have on the field and ready for the world to see. Thursday, Nov. 10 was the early signing period for any student-athlete that intends to sign a national letter of intent to play for a college or university athletic program upon graduating from Niles West.
Many students dream of playing their sport at the collegiate level, and three students were able to do just that. Seniors Eliza Kirov, Michael Gunartt, and Anastasia Webb have committed to colleges and universities, all of them taking part in their sports at the start of the 2017-18 school year.
Athletic director Kendall Griffin is extremely proud of the three student-athletes. His own experience as an athlete on the collegiate level has helped shape him into the person he is today, and he hopes the same can be said for Kirov, Gunartt, and Webb.
"I think it is awesome when high school athletes are given an opportunity to continue their athletic careers at the collegiate level. As a former NCAA athlete, I believe athletics in college helped me to become the person I am today and gave me memories I would never have had without athletics," Griffin said. "These three students will have opportunities other athletes may not, and I think it's wonderful that they have found schools that think enough about them as athletes that they want them to compete for their college or university."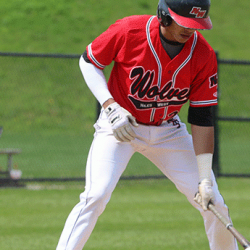 Gunartt, who plays baseball, has committed to Triton College in River Grove, Illinois. He has been on the boys varsity baseball team since his freshman year.
"I chose Triton because it was the best fit for me right out of high  school," Gunartt said. "I've been playing [baseball] since a really young age and wanted to continue my career as a baseball player."
He has worked extremely hard to achieve this and credits his teammates as well as coaches Mitch Stern and Gary Gustafson. 
"I just want to say thanks to coach Gary and coach Stern along with the baseball team for helping me to get to where I am," he said.
Coach Stern is extremely proud of Gunartt and believes that he is lucky to be able to pursue a college education as well as to continue his dream at a well-known college with a great baseball program.
"Michael has not gotten to where he is today without a strong regimen of baseball workouts. They are getting a very skilled baseball player. Triton has always been a top JC program in the country," Stern said. "The game is hard enough, but he has the skill set to be successful. He is lucky he gets the best of both worlds, playing baseball at a high level and getting an education."
Gunartt's goal moving forward is to be able to play baseball on a national level.
"Baseball is so important to me because it's something I've always wanted to do. I hope one day to play in the big leagues," Gunartt said.
Kirov, who plays tennis, committed to the University of Findlay in Findlay, Ohio.
"I chose the University of Findlay not only for their tennis program but because they have an amazing physical therapy program," Kirov said. "It was really important for me to find a place where I could continue my tennis career, but also work towards my major."
She has been on the girl's varsity team since her freshman year and has been captain since her junior year. Kirov was awarded the MVP award all four years at West.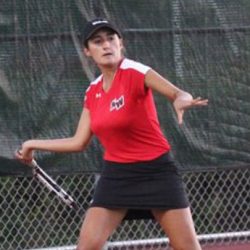 "Tennis in college has always been something I wanted to do ever since I was a little girl, and I'm so grateful that I have been given this opportunity.  I have been playing tennis for so many years and it's a sport that has become such a huge part of my life. Playing at the collegiate level has always been something to work towards and my ultimate goal," she said.
Kirov's hard work and dedication to her sport shines every day during practice, according to tennis coach John Vana.
"She's worked tremendously hard both in the season and in the off-season. She's improved her serve every year, she plays against tough competitions in USTA tournaments all winter, and all summer, and then she comes to practice and works on the machines tirelessly," Vana said.
He believes Kirov deserves her spot at Findlay and will find everything she is looking for, tennis-wise and beyond.
"I think it's a great fit for her; it sounds like what she's looking for academically, and I think the competition at tennis levels there is right about where she's at, so she'll have some success there," Vana said. "It's a smaller school, which I think she's more comfortable with, and it's not too far away from home, but far away enough where she can get away from her parents and have the full college experience."
After four grueling but worthwhile years at West, Kirov thanks her coaches for helping her become the player she is today.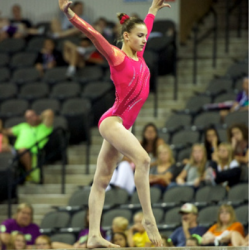 "I would like to thank all the coaches that have helped me throughout my 12 years playing the sport. There have been so many amazing people that have helped me on this journey. I have to say thank you to the coaches at Niles West high school who have supported me at every single game and trained me to become the player I am today. Suarez, Wilson, Vana, and most of all, Bravos, who has been with me all four years."
Webb, who is a gymnast, has committed to the University of Oklahoma in Norman, Oklahoma. She is the only one out of the three to be awarded a full athletic scholarship.
"I've been in gymnastics since I was three at IGI [Illinois Gymnastics Institute] and I've been committed to University of Oklahoma since my freshman year. I chose them because of their academics and the gymnastics program," Webb said.
One thing Webb is looking forward to is competing with other schools around the nation, as well as achieving her goals, both academically and regarding gymnastics.
"You get to compete all over the place, different areas and against other D1 colleges. You can compete with UCLA, LSU, Stanford — it's an amazing experience," Webb said. "My goal is to be a NCAA champion with my Oklahoma team, be successful in academics, and just have a good future."
Be sure to congratulate these athletes for their hard work and dedication and to wish them good luck as they continue their journeys at the next level.
Leave a Comment