JEA/NSPA 2016: The College Pursuit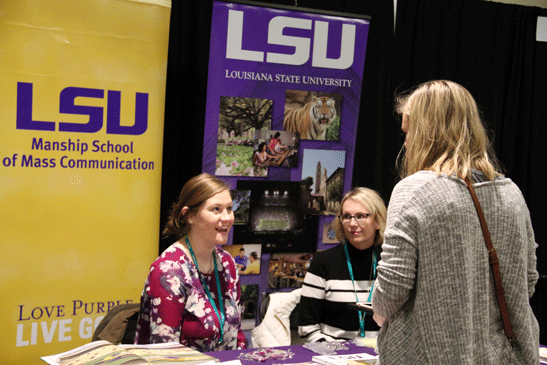 [youtube]https://youtu.be/zcVRXJb1Pzk[/youtube]
With over four thousand colleges for students to choose from, and 17 million students for colleges to pick from, finding the right match is like a finding a needle in a haystack. High school seniors need to make the biggest decision of their lives in a matter of months. The fate of prospective students are examined by admissions counselors that review applications and ultimately control their future.
The college application process is a tricky and twisted game, with every school wanting something different. There is no perfect school, and students have to pitch themselves. What do these schools want to see from students?
Dr. Charlie Tuggle, a college representative from the University of North Carolina, wants to see more than what is on the transcript.
"On top of great scores and a high grade point average, I want to see fire in the belly of students. I want students that are going to make UNC a better place. We are the back-to-back national champions for The Hearst Distinguished Achievement in Journalism, and if I can find a student to help us win number three or four in a row, that is the kind of person I want on our campus."
Students in the midst of the college hunt are considering more factors than just a well established program to be apart of.
"I am looking for a college that not only has a good journalism program, but a school that's close to home. If something were to happen at home, I want the comfort of knowing that I am just a short drive away. I don't need to be home, but I want to be able to come back in those cases of emergency," senior William Becker from Antioch High School.
College is a nerve racking experience, and some girls are very nervous to go away.
"I am looking at colleges with low sexual assault rates. This is something that scares me so much about college these days. I haven't come across a school yet that can provide the safe atmosphere that I am looking for, which is frightening. Colleges certainly can achieve the safe environment I am looking for by the time I am going away to school, but for now there needs to be some change," sophomore Julia Kerrigan from St. Teresa High School said.
College is a place for students to come from all different backgrounds, and bounce ideas around from all over the world. Students need a taste of home in college, but still want to go somewhere far away and explore. Seniors Erin Cowan and Kim Fleming from rural Maryland are considering schools across the nation.
"We live in the middle of nowhere on a mountain with a ton of cows. I want to get more experience being in big cities, growing up my whole life in a tiny town. I want to get a feel for something different, Cowan said. "I really enjoy being out in the country and living on a farm with horses; I love animals and want to stay near them. I want to travel to a college where I can experience a large city feel while staying close to my roots," Fleming added.
A big part of finding the perfect school is finding what college harnesses individual needs and wants. Every school has something different to offer, and finding that match is something really important to Loyola University in New Orleans representative Emily Bomersback.
"At Loyola University there is an array of resources for students and it is all about finding that right fit. Visiting the campus is the best way to get to know the school, and get to know the feel of the city around it. The transcript is a good indication of a student's drive, but the extracurriculars, community involvement and personal essay help us to round out the picture of the prospective student," Bomersback said.
Every student has a different reason for attending a specific college or university. There are so many factors students have to take in when making the decision that is essentially the bridge to a lifelong career. The best resource that students can use to gauge where they want to end up is where the student feels the most comfortable at, and where they will receive the education that suits them.
Check out how the NWN covered this on social media: https://storify.com/nileswestnews/jea-nspa-the-college-hunt
Loading ...