Meet Me in a Minute: Isabella Saldana
Right before beginning her floor routine, freshman Isabella Saldana takes a deep breath. She peers out into the crowd that consists of her close friends and family, and glances at the stoic, expressionless faces of the judges.
Like any freshman, Saldana was anxious coming into high school, but she was also very excited to be a part of the gymnastics team, especially since she already knew many of the girls that would be on her team from club gymnastics and summer camp.
"The thought of coming into high school was nerve-wracking, but it helped to know that I would be joining gymnastics and that I already knew the girls that would be on my team. My brother Anthony, who is a junior, was also there by my side through everything. Before school started I would always ask him questions since I didn't know what to expect," Saldana said.
In gymnastics, there are four possible events that the girls can compete in. Each event is difficult in its own way and requires many different skills.
"I'm fine with competing in any events, but it really depends on what the team needs me for," said Saldana. "I enjoy competing on floor the most though. I find it most fun for me. It gives me an adrenaline rush."
"I'm really excited about Isabella joining our team. I think she will make a positive impact and will help us to get higher scores overall as a team," said sophomore teammate Jasmine Dirks.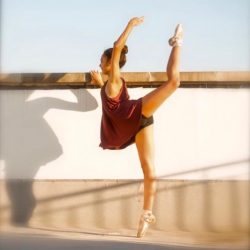 Besides gymnastics, Isabaella stays busy with Orchesis, dancing outside of school, and other extracurricular activities.
"I barely have time to do homework because I am so busy but this helps me to manage my time, and I would rather stay up late doing homework than stopping one of the sports I do," said Saldana.
Saldana believes that Orchesis and gymnastics go hand in hand: the flexibility and tumbling skills she picked up from gymnastics assist her in Orchesis, while in gymnastics, she uses her Orchesis jumps and dance moves for her floor and beam routines.
"I wasn't sure what Coach Arcus would say about me joining Orchesis and gymnastics. I thought she would be mad, but she wasn't at all, and instead was happy for me since I was staying involved," Saldana said.
Isabella is very excited to start the gymnastics season, especially as one of the only freshmen on varsity. Her team's first competition will be at home on Tuesday, Nov. 29 at 5:30 p.m. against Maine West.