Controversy over North Dakota Pipeline Reaches Niles West
Hang on for a minute...we're trying to find some more stories you might like.
The Dakota Access Pipeline, implemented by the U.S. Army Corps of Engineers on land belonging to the Standing Rock Sioux tribe, has been a source of controversy since its inception. That strife has reached far beyond North Dakota. The pipeline, a four billion dollar project, is intended to transfer crude oil across four states, from North Dakota to Illinois. Originally proposed in 2014, the project was expected to be completed this year.
However, opposition led by the Standing Rock Sioux has delayed the pipe's opening. The pipeline travels underneath the Missouri River, the main water source for the 10,000 members of the Sioux tribe; a single leak in the pipe could infect the entire water supply. Tribe leaders also argue that the federal government did not go far enough in engaging them with the permitting promise and that the pipe runs through sacred burial ground. Environmental activists from all over the world oppose the pipeline for propping up oil infrastructure, resulting in further climate change. They argue that all fossil fuels should be kept underground, to limit increases in climate change.
The issue has reached Niles West as well. On Tuesday, student activities director Katie Odell sent students a link to a petition advocating against the pipeline.
"I sent out the link to the petition for the students who are being proactive and taking ownership themselves. I actually had a student contact me about sending out the petition for Ms. Lichterman's class," Odell said.
English teacher Dana Lichterman spoke about the pipeline in her American Lit and Composition Honors class and her students felt that it was their responsibility to spread the word.
"It was actually the students in my American Lit and Composition Honors class that are leading the way with this issue. We had been studying Native American literature and watched videos of what was happening in the Dakotas. A guest speaker also came into our class and talked about her experience supporting the protesters in North Dakota," Litcherman said. "Her presentation motivated my students to action. They wanted to do something to support the protesters and to educate others about what is happening. We are also studying civil disobedience, and what the protesters are doing is the embodiment of these ideals."
Her students encouraged West to sign the petition and plan on holding a fundraiser as well. Many students are concerned about the protesters at the pipeline as well who will be forced to endure the upcoming winter as they continue to protest. The pipeline not only disregards the Standing Rock Sioux tribe, but it will also lead to immense environmental repercussions.
"My students are organizing a petition drive, will be making cards of support for people to sign so we can send them, and we are hoping to hold a bake sale or some fundraiser to send a donation. Our hope is to raise enough money to buy either sleeping bags or firewood, both items of which are on the Dakota Access Pipeline wishlist. The protesters are preparing for the winter, which is brutally cold," Lichterman said. "My students are really focused on promoting this issue, which, while it seems like the Pipeline is so far away, does actually impact us in Illinois. The pipeline is slated to run from the Dakotas all the way to Illinois. The environmental impact is huge, because if the pipe leaks, it will affect drinking water; it will fuel climate change as well. Beyond that, this pipeline is being built on sacred and religious land, and Native Americans, whom we all know have been disregarded and abused in the Americas for thousands of years, have asked that it not be built. Their voices are pleading to be heard. My students are committed to making a difference!"
Although this problem is not receiving the attention it deserves my many media outlets, West students have come together to make a change. Many of them have already signed the petition, hoping to do their part.
"I signed the petition," junior Jacqueline Karp said. "I think it's completely ridiculous that a group of people can be directly attacked in such a way, especially the Native Americans — people who have already been pushed so far into the corners of America — and yet the obviously harmful and disgusting removal of clean water is still not stopped."
Some students are outraged and believe that the construction of this pipeline is a direct violation of the fourth and fifth amendment which deal with privacy issues and property rights.
"It goes against the fifth amendment. It's illegal seizure of property belonging to the Native Americans without compensation," junior Nicole Cardona explained. "It's really terrible that the government is still treating the Native American population this way. They are affected more than anyone else by the pipeline, since it destroys their main water supply."
A few students spoke out in favor of the pipeline.
"I think it's going to be beneficial for the environment and the economy," junior Teodora Simic said. "It's going to create a lot of jobs for the working class, and that's important in this day and age."
On Monday, the Army Corps of Engineers announced via letter that progress on the pipeline would halt until further discussions are carried out with the Standing Rock Sioux tribe concerning construction under the Missouri River. Despite this conciliatory measure, protests are still taking place throughout the United States.
If you believe that the pipeline should not be built, sign the online petition, sent out by Odell. You can also find Lichterman, who will be carrying around a hard copy for students to sign.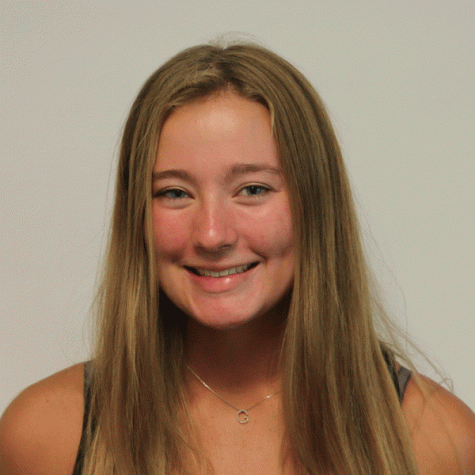 Grace Geraghty, Editor in Chief
Grace is a senior in her third year on Niles West News, where she is the Editorial Editor in Chief. Outside of NWN, she can be found figure skating, at...