The Turkey Bowl: An Unofficial Thanksgiving Tradition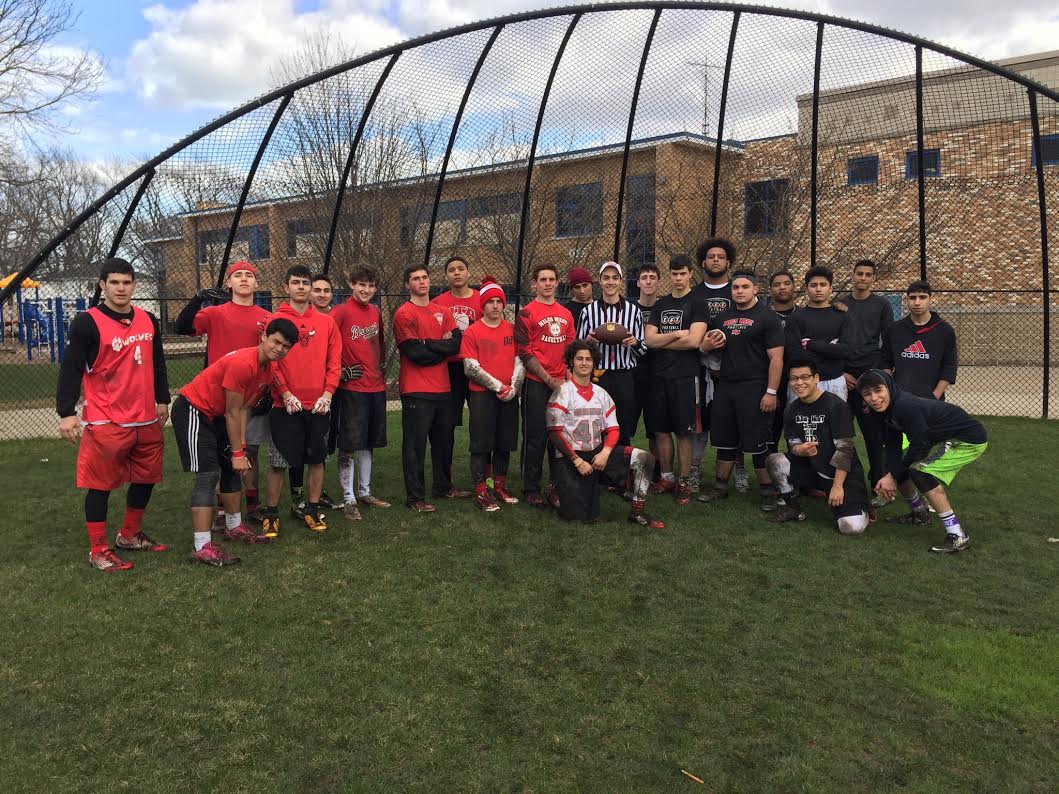 By Luke Palmar
November 22, 2016
As the leaves pile up on the sidewalk and the cold wind rips through the air, captains and seniors Johnny Pabst and Mikey Youkanna exchange cruel glares as they trot down to Molloy Park for the annual Turkey Bowl.
The Turkey Bowl was created by a group of students as a way to enjoy Thanksgiving break with friends and family outside of school. Each year, a large group of seniors are divided into teams and get together to play a competitive game of football in the morning before eating the big Thanksgiving meal later that day.
Senior Sokol Delisi is the appointed commissioner of the Turkey Bowl. He believes it is a great way for students to come together, and although it may sound like a rough game of football, the Turkey Bowl is more than that. Delisi — along with a few other seniors — spend several months planning the Turkey Bowl, taking safety into account as well as trying to make the game enjoyable each year.
"The reason why the Turkey Bowl is so successful is because it is very organized. We have a league office that consists of [seniors] Bobby Lochner and Alec Larson as Deputy Commissioners, Matt Metz and Greg Leftakes as Player Union Reps, and myself as the Commissioner," Delisi said. "The League Office and I always try to find ways to improve the Turkey Bowl by adding new rules and playing equipment, and ensuring safety. Each year the Turkey Bowl receives great feedback from our peers and families and in return it has a great turnout year after year."
Youkhanna, who is one of the captains this year and a quarterback, is quite confident his team will walk off with the win. He believes he has a great group of guys on defense that will play a very large role in this year's game.
"Sticking to the fundamentals and leaning on our running game is our advantage. We've got size, so we are going to play against their speedy guys," Youkhanna said. "Regarding my defense, I am confident my team will keep the dynamic duo of Greg and Johnny in check. Tune in Thursday to see Youkhanna with the win."
Pabst will be playing against Youkhanna this year, and he is confident that his team will win. Pabst is both quarterback for the Turkey Bowl and for the Niles West varsity football team. He believes his experience, as well as help from fellow teammate and cousin Leftakes, will help them.
"We have high expectations for each other, and we believe that if we compete and execute our system to the best of our ability, the wins will come naturally. They won't know what hit them," Pabst said.
Come out and support the boys at Molloy Park at 9:30 a.m on Thanksgiving Day. Bring your friends and family as the boys give it their all one final time.