Meet Me in a Minute: Nasim Salehitazangi
Hang on for a minute...we're trying to find some more stories you might like.
When entering high school, most students find it difficult to figure out their passion. However, this was not the case for junior Nasim Salehitazangi, who had always found pleasure in arguing and debating. This passion of Salehitazangi's has transfigured from just a mere admiration to winning countless debate tournaments, and it's visible through her devotion to the team.
Salehitazangi initially joined debate her freshman year due to her overall interest in arguing.
"When I was younger, I always loved being a devil's advocate and arguing with people whenever I got the chance," Salehitazangi said. "Naturally, I thought that debate was a great opportunity to explore that interest."
The competitive nature of debate, which requires hard work and dedication, is the reason she's become a devoted debater. Along with competing, she enjoys meeting new people at tournaments.
"The competitive nature of debate [is why I've become so devoted to it]. Debate requires a huge amount of time researching an endless amount of evidence which I personally find really interesting," Salehitazangi said. "People you meet all around the country are also really awesome and you make really great friendships that make you want to continue the activity."
Last year, Salehitazangi and her former partner, junior Nate Glancy, won the two major junior varsity tournaments in Glenbrook South and at Nationals.
Winning such huge tournaments led Salehitazangi to be further motivated to compete and win something as extraordinary again.
"It was honestly unbelievable at first. It really made me want to continue the activity because not only did I like doing it, but I was getting better than expected results," she said. "Probably what motivates me to do so much work for it now is so I can get the same type of results. It's harder since I'm only a junior going against seniors who have been debating for almost six years."
Salehitazangi's former partner believes that she's a role model for the team and is admirable in her continual drive.
"She's a very active member. She easily outworks me and is just a machine at debate," Glancy said. "Also, she is a good leader and model for the younger debaters, and she teaches them very well."
Debate coach Eric Oddo agrees that Salehitazangi is a role model for the other members of the team and has a drive that is unique and unbelievable.
"Nasim has brought an immense contribution to debate," Oddo said. "She has shown how much hard work matters to other debaters along with passion to get better and constantly improve. She was one of the best novice debaters we've had in terms of results."
Salehitazangi expects to continue employing skills she's learned in debate with the rest of her life. Becoming a lawyer is one of her goals, but she is sure that she can use her skills regardless of what she does.
"It has a huge role for my future because most debaters naturally expect to go into law, which is where I want to go. It's helpful mostly because of the skills you get: becoming a master at research, being a devil's advocate so you can debate both sides, becoming a better public speaker, and most of all, persuasion," she said. "Even if I didn't want to go into law, I think those skills can get me nearly any job I want when applied correctly with the proper qualifications."
About the Writer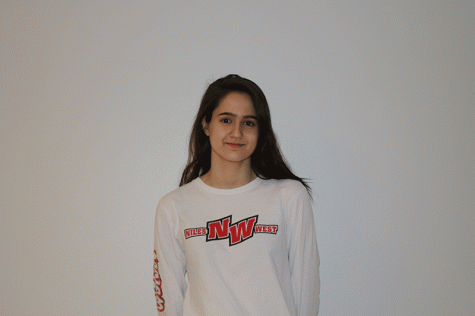 Adisa Ozegovic, Staff Writer
As a self-proclaimed book fanatic, senior Adisa Ozegovic enjoys re-reading David Sedaris' short stories in the late evenings while savoring her favorite...