The Miracle Center: Where Dreams Become Reality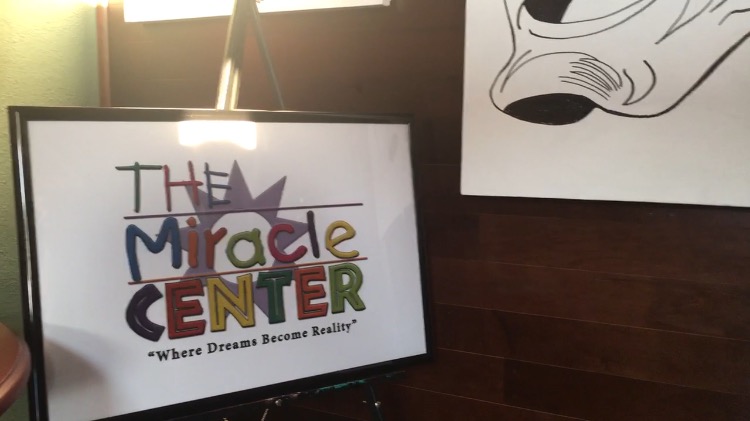 By Katherine Khoury
December 19, 2016
[youtube]https://youtu.be/rOvvy-SN1Qc[/youtube]
Located on the corner of Pulaski and Belden, The Miracle Center (TMC) is home to many Chicago kids who have developed a passion for theatre. There, they live by the motto "where dreams become reality," believing that you can accomplish whatever you put your mind to. This is a motto that owner and founder Mary Santana has been living by her whole life, and with hard work, she has achieved many accomplishments for herself and the company.
TMC is a place many inner-city kids are able to call home. Not only can you take part in acting, but they offer a little bit of everything: stage crew, photography, film making music, and dance. Throughout the year, they offer an after school program from 3:00 to 8:00 p.m. where kids can go and be provided with a meal, theatre workshops, and even tutoring time if kids need help with their homework. During the summer, TMC has dance programs where kids are hired to take dance classes and later on perform a show near the end of the summer.
Even though TMC has so much to offer now, it wasn't always like this when first starting off in 1995. TMC originated in the apartment basement of Mrs. Santana, where instead of putting on plays, they all piled into a minivan and took mini trips in the summer.
"I was 10 and my brothers were three and seven when we started going to Mary's camp,"  communications director Vanessa Torres said. "It was nothing like it was now; we would jump in the minivan and go to Lincoln Park Zoo, have beach days, and sing along in the car. It started off as a place where we could just go to in the summer, and grew into a place I can call home."
As the daughter of Santana, senior Alissa Santana grew up going TMC almost every day with her mom. She has been involved with TMC nearly her whole life, just like many others have. Without TMC, Santana would probably have never found her passion for the arts. Even though she had participated in countless plays at the center, she never thought of it as her passion.
Earlier in her life, Santana had a love for basketball and volleyball. It wasn't until the summer going into her sophomore year that she realized theatre was what she really loved. When she tore her ACL and wasn't able to participate anymore, she started to become more involved in the center. The more involved she became, the more she thought that tearing her ACL was a blessing in disguise; without it, she wouldn't have realized how blessed she was to be able to be a part of such a beautiful organization.
"TMC is a place I'm able to call home, and I can't imagine my life without it. Being a part of TMC from the beginning has been one of the biggest blessings. It showed me how to be humble and thankful for the opportunities I've been given through the company. In my life, seeing my mom go from the basement of a church to being given money from the state to buy her own facility made me so proud because I see how hard she works everyday at the center and at home," Santana said.
Having TMC as such a big part of Santana's life has influenced her to bring many of her close friends to the center, mainly to share what shaped her into the person she is today. One of her close friends, senior Julianna Gil, who had been going to the center for only a couple of weeks during the summer, received an opportunity to be on TV.
"Coming to TMC has been beneficial every time I'm there. One of the most memorable times is a day during the summer I had the opportunity to be on Univision and interview Maria Torres," Gil said.
Many inner-city kids don't believe that they have what it takes to leave what they know behind and have the opportunity to go off to college to have new experiences. Those who have participated in TMC's programs have had several success stories. 90 percent of kids who go to TMC graduate from high school and attend college the following semester. One of the many success stories is that of Nitza Rosario.
"TMC has taught me what it means to find and be your complete self and make amazing friendships that'll last a lifetime," Rosario said.
Rosario started going to TMC when she was around 10 years old and was able to grow as a person there. There, she grew a great work ethic, and when senior year rolled around, she started applying for colleges. In her college essays, she explained how TMC taught her to become the well-rounded person she is today. With hard work and dedication she learned from going to the center, she was able to receive a full scholarship to the University of Michigan.
Another story from TMC involves Samantha Rodriguez. Rodriguez knew that she wanted to be a lawyer when she started going to TMC at the age of 15. She started off in the Young Entrepreneurs program, and during the summer, the center was able to create a program called the "Legal Eagles," which was a mock legal program. Through that program she began to work harder in pursuing her dream, and eventually got a full ride to law school.  Other kids from the program ended up leaving the city and went to school at Lake Forest, U of I, Michigan, and many more. This is just one of many programs TMC has to offer, and it gave these kids the opportunity to go beyond their neighborhood and look hopefully towards the future.
One of the best things about TMC is that the people there encourage everyone to be a part of the center and they invite everyone to come. It's a place where you can find yourself building new friendships and pursuing whatever new passion you're bound to find.