2016 Winter Poms Preview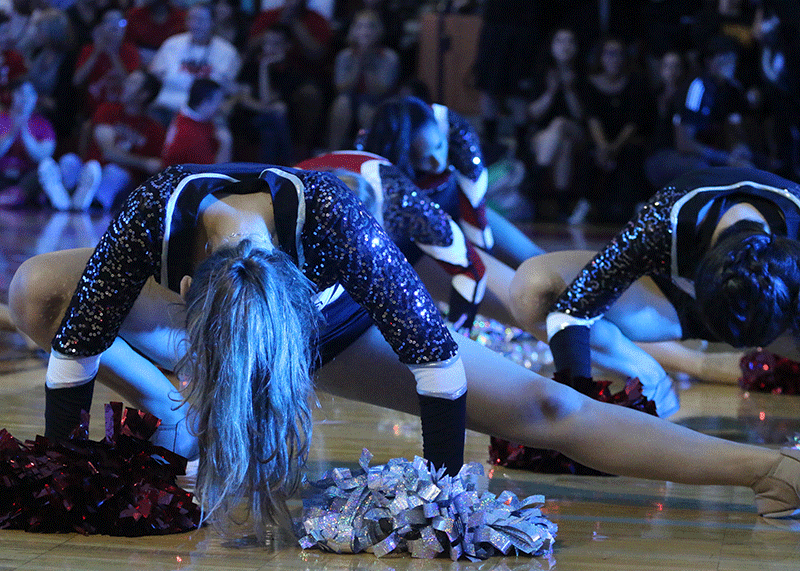 By Farheen Khan
December 2, 2016
The NWN had a chance to sit down with head poms coach Alexandra Bedoya to discuss their season this year so far as well as their competition season.
NWN: How is the team looking this year?
Bedoya: The team is looking the strongest they have looked in a few years. We've spent a lot more time training technique and flexibility, which is really improving our chances for competitions. A lot of these athletes do not take dance classes or have had much technical training, so it is up to us to make sure they are being exposed to that constantly. This is to not only spend more time cleaning and making necessary changes, but also to get more opportunity to work our spacing and formations on the gym floor. It's been a few grueling weeks, but the girls have put in great work and we are very excited to see how it pays off in competitions.
NWN: How are competitions going?
Bedoya: Competitive season is in full swing at the moment. We have competitions scheduled this Saturday, Dec. 3 at Eisenhower High School, the following week on Dec. 11 at Stevenson High School, and our last regional competition on January 8 at Huntley High School. This year we are taking two routines instead of one — pom and lyrical. This has been a challenge for the team in terms of timing and learning choreography; however, they have proved that they were able to execute both routines well and get everything looking clean and cohesive. This will increase our chances at all competitions because we have double the chance to qualify in the top of our division and qualify for state as well.
NWN: Who are your captains this year?
Bedoya: Our captains this year are senior Amanda Lee and junior Audrey Choi. Both captains have been a part of the program since their freshman years at Niles West. Our program has undergone a lot of staff changes over the last four years, so these were our first captains that had both myself and Coach Clifton (JV) as their coaches. This helps tremendously because they know both of our expectations, how we run our practices, and the type of training and conditioning that is required of the team. Since this was the first year we have ever combined programs for competition season, it was helpful to know that they were able to reinforce our vision to all members of each level.
Coach Bedoya looks forward to seeing how this year's team will do at their first competition of the season this weekend. Come out and support our girls at their first competition this Saturday, Dec. 3 at Eisenhower at 9:00 a.m.