2016 Winter Preview: Boys Swim Preview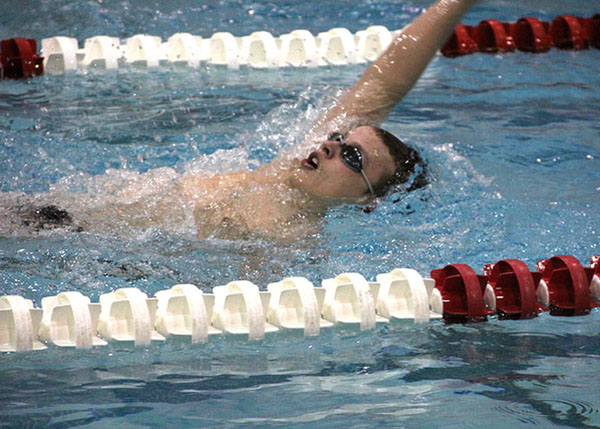 By Erin Kaihara
December 14, 2016
The Niles West News got to sit down with the boys' varsity swim coach Jason Macejak to talk about the team's goals and expectations for this upcoming season.
NWN: How does the team look this year?
Macejak: Fantastic. We've got a young team and some experience on the team as well. We have a group that I think is starting out extremely well. We have a lot of kids that are right on their lifetime best times at the beginning of the season, and that's a great place to start. Like I said, we're young, and the young kids who are coming in are adjusting to high school swimming, and the older kids on the team are doing a good job of accepting them as well. It's a fun group, it's a motivated group, and there's a bright future for the rest of the season.
NWN: To the best of your abilities, how does this year compare to previous years?
Macejak: The morale seems to be a bit higher this year from what I observed from a distance, because I wasn't the varsity coach last year. Morality is up, camaraderie is up. They seem to be enjoying each other and having a lot of fun. It's a team that can focus on, for some of them, breaking that side of the freshman and sophomore record board. The older kids are looking to have significant gains from last year, and I think the younger group is going to help motivate the older group. I think the older group is good at setting an example for what high school swimming is about. They're mixing well.
NWN: Who are the key swimmers we should be keeping an eye out for?
Macejak: Our team is so deep, there's just so many. Our top returning swimmer is sophomore Xander Guerrero, and there are about six freshmen swimming at the varsity level. Senior Brendan O'Shaughnessy is probably our top diver. We've got sprinters like sophomore Freddie Oribello, junior Jacob Bobiles, and junior Sam Paloma who are all returning from last year. The list keeps going. We have a good group of freshmen, sophomores, juniors, and seniors on our varsity team. We're so deep I can't name just one person.
NWN: What are the strengths of the team?
Macejak: They have fun. They work hard, but they have fun. They make sure they don't take things more seriously than they should. That's going to help them with their training and achieving their goals from now to the end of the season. They work hard, they want to work hard, and they keep things light. It helps them get the most out of practices.
NWN: What are your goals for the upcoming season?
Macejak: For any team I coach, I want them all to have lifetime bests at their taper meet because that shows they're getting faster as individuals. Other than that, it would be nice to have our team represented at the state meet. We're in a unique position where we're able to compete with some of the conference teams that we haven't been able to compete with in the past. We'll have some good races with GBS, but Evanston will be a very close meet. We've been close before, but this is a year where we could potentially beat them. We're not knocking Evanston, they're a great program, but for our group to come in and possibly beat them would be great for the group of guys that we have. Our freshmen and sophomores might have a lot of opportunities to break a lot of the records up on the freshman/sophomore side, and seeing what we can do in the dual meets is going to be a lot of fun.
NWN: Against what team will be the closest meet?
Macejak: We're going to have a very close meet with Niles North. What's nice about that meet is that they all know each other; they all compete with each other in the off-season with their club. Evanston and Maine South should both be close meets. We'll have kids that can compete with some of the kids from New Trier or GBS, so that'll be exciting as well. There will be a lot of close conference meets this year, so that'll be fun.
Be sure to cheer on the boys at their first home meet after enjoying your winter break. They'll be up against a tough competitor, Evanston, on Friday, Jan. 6 at 5:30 p.m.