Comment to Win a Free $15 Giftcard to Chipotle!
By Nick Goldwyn
May 23, 2011
Hang on for a minute...we're trying to find some more stories you might like.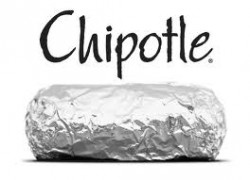 Earlier this year, Reviews Editor Colene Gibson wrote a piece on a Mexican restaurant she claimed was better than Chipotle, gasp. Anyway, I'm not here to bash that place, only to say that Chipotle is AMAZING, and way better than Taqueria Los Cuates, so on with the review.
Chipotle burrito. Enough said. Now at this point in the review, for about 99% of the people who opened this story because there was a picture of Chipotle, I could stop right here. Let's face it, everyone knows Chipotle, and everyone has an opinion on it, and most people (myself included) freakin' love it. But if you're not in that 99%, let me continue and give you a little Chipotle knowledge.
I pull into the Village Crossing parking lot. The time is approximately 4:00 p.m., we have just been let out of school, and my friends and I are hungry. So, where do we go? Down the street to Chipotle, obviously. No matter when I show up to the Chipotle in Village Crossing there is always someone from West there, and sure enough, as soon as we swing open the giant metal and glass door and step inside, we are met not just by the heavenly smell of grilled chicken and tortillas, but also the sight of at least five other juniors from West.
Now comes the worst part about Chipotle: the wait. As we stand in the long line that leads directly from the door to the counter or off to the left to the bathroom, I switch what I'm going to order in my head about a million and a half times. But as soon as we move to the front of the line, and I see the tortillas sitting in front of me, straight through the glass counter, I revert back to my original order: a carnitas burrito.
As we get up to the counter, I am asked what I want to which I reply that I want a burrito. Almost instantaneously, a giant tortilla is put into the tortilla press. Now, if you've never been to Chipotle, the tortilla press is basically a giant warmer for tortillas, and it's also really cool looking, but that's beside the point.
As we snake down the counter made of metal, glass, and a light color wood, I come to the next decision in my burrito ordering process, what kind of beans do I want.  At Chipotle, every burrito starts with lime seasoned rice, then you get a choice of beans (black or pinto). You can also choose to make it a "fajita burrito" and add grilled veggies instead, I ask for both types of beans and the veggies.
Then it's on to the meat, and yet again another choice.  I can go with the seasoned steak, the chicken, or my personal favorite, the carnitas.  For those of you who don't know what carnitas meat is, it's a succulent pulled pork marinated in spices.
Next, I have to add salsa:  you can get mild tomato, medium corn, medium tomato, or hot salsa.  I usually get both the mild and the corn because the sweetness of the corn really makes the burrito and I don't want to burn my mouth off.
Now, we are at the final stage of burrito creation, and my burrito is already looking magnificent.  I have to decide if I want lettuce, sour cream, or cheese on my burrito. On this particular day, I'm not feeling the lettuce so I only get the sour cream and cheese, plus I add on guacamole, which costs an extra $1.80, but it's worth it.
Then, as the burrito is wrapped up in Chipotle's new signature gold tin foil, I come to the cash register, and dish out about six bucks for my burrito, plus a drink and some chips and guacamole.   Their chips are lime flavored and amazing!  My total price is around $10, a little pricey for a post-school snack with friends, but hey, it's Chipotle.
After filling up my drink, my friends and I find a table near the middle of the restaurant. We push two of the small circular metal tables together and sit down at it.  As we sit, I wonder why I've never sat at a booth, or why I rarely sit at the counter by the window on those extra tall chairs.
My mind then wanders to whether I made the right decision with my burrito. I look up at the giant menu boards above the counter , and think wow, what about branching out to one of the other two things they serve? Some tacos would be great right now or maybe a burrito bowl. But then, I open my burrito and take a bite, and all the worry and indecision goes away. A Chipotle burrito made just the way I like it and some chips to go with it is near perfection, but you didn't need me to tell you that did you?
Do you want a chance to win a free 15 $ giftcard to Chipotle !  That's right, we saved our best contest for last! We're giving one away, so enter by commenting on this review!

To enter the contest, simply leave a comment:
Why is Chipotle SO amazing?
What do you always get at Chipotle?
What makes Chipotle the best?
Comment as much as you would like, but you will only get an entry for your first.
This giveaway is open to STUDENTS ONLY (sorry teachers! NWN staff is not allowed to enter either!)
One winner will be selected via random.org. The winners will be contacted via email and will be announced on Morning Announcements.
This contest ends Friday, May 27 at 8 AM. So act quick!
A winner has been selected. This contest is now closed.