Teacher Appreciation Week Part 4: Thank You, Mrs. Freeman
Have you ever been into the Little Cubbies Preschool?  It's in a deserted part of the first floor hallway near the science wing, but the classroom is anything but deserted.  Inside it is bustling with students teaching and cute little kids running around.
The preschool is a laboratory preschool meaning that students teach the class to learn more about, well, teaching.  Students plan activities, write lesson plans, record observations, and, of course, play with adorable preschoolers.  The teacher responsible for such an amazing, successful program is Mrs. Sheree Freeman.
She has been teaching for 21 years and seven of those years have been here at West.  In the past, she taught six years of Early Childhood Special Education.  For the past 15 years, Mrs. Freeman has been teaching Child Development.  Ever since she began teaching at West, she's been working extremely hard to ensure that all the students, both high school kids and preschoolers, have a wonderful experience and learn while having as much fun as possible.
Mrs. Freeman teaches the Child Development Workshop course (a double-period course for second-year preschool students), two Child Development Preschool courses (a single-period course for first-year preschool students), and one period of Consumer Education.
"My favorite thing is when I teach students who are really, really interested.  I like when they're really enthusiastic and go about and beyond the call of duty," said Mrs. Freeman.  "I also like when a student who isn't interested turns around and decides to do really well."
When asked about her favorite aspect of teaching Child Development, Mrs. Freeman said, "the students.  I like being able to work with little preschoolers and also the high school students.  I have the best of both worlds."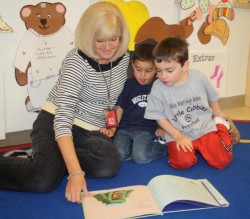 When questioned about her favorite class to teach is, Mrs. Freeman said, "Child Development Workshop."
Despite her love for working in Child Development, next year, for her final year before retirement, Mrs. Freeman will be a "traveler" teaching psychology at both North and West due to the changes instated by the School Board and NTFT (the teacher's union).  After retiring, Mrs. Freeman plans to travel and visit their children who live out of state with her husband, Mr. Freeman (North's previous principal who retired this year).  She's even considering volunteering to work at a hospital.
Mrs. Freeman is by far one of my favorite teachers here at West.  She comes to class every day with a smile on her face and a cheery attitude.  She's always excited to be with her students, so even when we're having a bad day, she can instantly cheer us up.  That alone set her apart from some of my other teachers, but since I've been in her class the past two years, we've had the opportunity to get to know each other.  She even taught my younger brother in the Little Cubbies Preschool four years ago!
She's one of those teachers who you can actually reason with.  Mrs. Freeman understands that students have other classes, other projects, other tests, and other responsibilities.  If she feels her class really needs more time and isn't just taking advantage of her kindness, she allows extra time for projects.
Mrs. Freeman also helps us prepare for real-life situations.  This year she helped me with a resume and gave me advice about interviewing and getting a job.  Thanks to her help and advice, I was able to get a second job this year.  Without her, I never would have known how to make a resume.  When I told her about my interview, she encouraged me and told me I'd do great even though I was extremely nervous.
It's really nice to have a teacher who points out the good aspects of your work or your personality, which is another reason why Mrs. Freeman is loved by her students.  She notices things about her students other than the fact they aren't in their seats and need to be marked absent.  I remember when one of my peers bought a new pair of Uggs, Mrs. Freeman complimented her and inquired about her new shoes.  When she grades our projects and teaching activities, we can always expect a nice comment on the grading rubric as well.
If one of our teaching groups is finished putting up bulletin boards or working on a project, Mrs. Freeman will sometimes make us popcorn or just pull up a chair and catch up with us.  It's nice to have a teacher that shows how much she cares and wants to hear about our lives.
I think the most important thing Mrs. Freeman has ever taught me was to make the best of every situation.  There are always sticky situations in preschool, sometimes it's in the very literal meaning too.  Whether it's a lesson plan gone wrong, or an undesirable outcome like how she was reassigned to teach psychology, she always looks for the silver lining or the best solution.  Although she was justifiably sad about losing Child Development, Mrs. Freeman started inquiring about what creative ideas her students who had already taken Psychology had experienced.  She immediately began looking for fun, creative ways to teach the class.  I think that's a very admirable quality, and hopefully I can learn from Mrs. Freeman to look for the silver lining and make the best of every situation.