Assembly Honoring MLK to be held Wednesday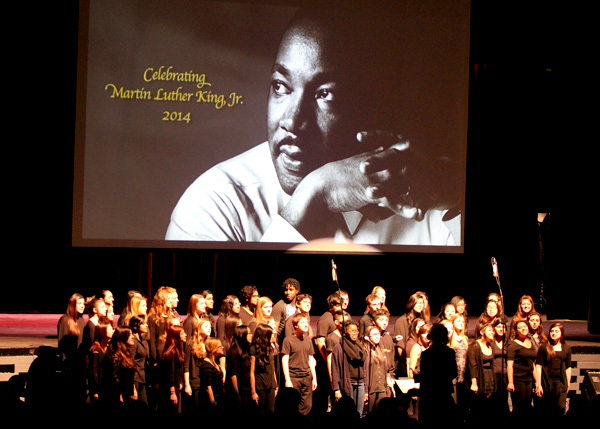 Hang on for a minute...we're trying to find some more stories you might like.
Black Student Union is planning on honoring Martin Luther King, Jr. by organizing the annual assembly honoring the civil rights activist, which is to take place Wednesday, Jan. 18. This year's assembly theme is "Honoring King's Legacy through Youth Activism."
BSU members feel that the theme carries an important message.
"We [BSU] chose this theme because the youth is currently in a powerful position. We are the ones who will be able to make a difference in our future and decide how our lives will be, so it's important that not just adults get involved," sophomore Maya Cayemitte said. "In BSU, our sponsors aren't directly involved in our activities; it is entirely student-run. The members are the one in charge of planning, creating, scheduling, and promoting, so I think that ties into the assembly theme seamlessly. More teens should get more involved."
Director of Equity Alana Laury feels a personal connection to the importance of honoring Martin Luther King Jr. and hopes that the students will be able to fully understand, grasp, and implement his message in their everyday lives.
"It is important to honor and celebrate Martin Luther King Jr. because he was a trailblazer who fought for equality for all. As an African American woman, I would not be in the position that I am in today if it were not for leaders like King," Laury said. "The assembly is a time for the entire school to come together to acknowledge and celebrate the holiday with multiple performances."
Many students are looking forward to this assembly for a more significant reason than just the shortened class periods.
"I admire [Martin Luther King Jr.], and I think that he sacrificed so much in his life in order to help others," sophomore Stephanie Sorisho said. "I don't think a lot of people know that he fought for more than just black civil rights; he was an activist for all minorities, so it's great that we recognize how he has shaped the world for us today."
Wednesday will be run on a double a.m. assembly schedule, so students will attend the assembly at different times with their first period classes.