Girls Gymnastics Meet Against North this Thursday
The team is coming up from a high after beating the Niles North Vikings over the weekend by only one point. It was a great feeling for those who were competing. The primary goal of this next meet is to keep the traveling trophy, and keep up the team's positive, competitive attitude.
"For the last two years we've taken the traveling trophy, so obviously we would like to keep that," coach Susan Arcus said. "We beat North at their invite on Saturday, so we're feeling pretty good that it's going to be a very close meet."
Many West students are excited to see how the meet will turn out and plan on attending the meet to cheer on our Wolves.
"I'm really excited and nervous [for them]," junior Jessica Kalathil said. "I, of course, want the team to beat North. I'll definitely be there to root them all on."
The concerns the team faces are mainly staying consistent with their winnings and continuing to stay on their feet.
"The team's consistency needs to be fixed. We have really good meets and we have really bad meets," senior Claire Embil said. "Most importantly, we need to stay on our feet. I think we fall a lot. We always get back up, and I think that's admirable, but at this North meet we need to make sure we stay on our feet."
Despite some faults that the team needs to work on, staying on the beam continues to be an issue for the team and can be a determining factor on who will win.
"It's really important that they keep their competitive spirit alive and staying on beam," Arcus said. "That's really a big key. Whoever stays on beam, whichever team, ends up winning."
Along with it being just a regular invite, the team will have a "Senior Night" to honor their four senior gymnasts: Haley Aichholzer, Tia Chung-Swanson, Claire Embil, and Karina Marin.
The Niles West girls gymnastics team will be facing off against North, yet again, on Thursday, Jan. 19 at West, beginning at 5:30 p.m. Make sure to come out and support the girls as they compete for their right to the traveling trophy.
About the Writer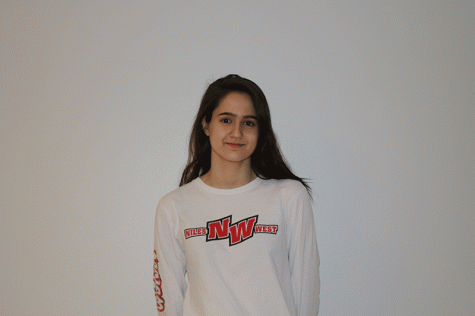 Adisa Ozegovic, Staff Writer
As a self-proclaimed book fanatic, senior Adisa Ozegovic enjoys re-reading David Sedaris' short stories in the late evenings while savoring her favorite...