New South Lobby to be Built This Summer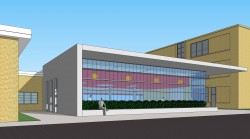 Due to the high repair costs to the South Entrance's outdoor canopies and the need for more space for study halls, a South Lobby will be built by the south entrance this summer.
According to principal Kaine Osburn, the original proposition was to fix the canopies in the South Entrance, but it was too expensive and wasn't worth fixing.
"The budget for [the canopy restorations] seemed really high. If we raised the budget a little bit, [we could] build a lobby there for about the same cost," said Osburn.
As of now, the plan is to knock down the canopies, and close in that courtyard area with walls. The entire south wall will be windows, and it will fit more than 100 people, Osburn said.
"The South Lobby will serve as additional space for study hall, lunch, presentations, and meetings," Osburn said.
The cost to build the South Lobby is approximately $700,000.
Construction is scheduled to start a week after school ends, and will continue up to the beginning of the 2011-2012 school year.
Note: The image provided represents the design of the South Lobby. It has been revised a little since then.