Five Gymnasts Qualify for State
By Nick Goldwyn
May 12, 2011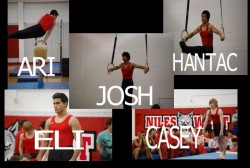 The Boys Gymnastics team qualified five varsity gymnasts for State, at the IHSA Sectional meet on Wednesday, May 4.
The five gymnasts who qualified for State were seniors Hantac Chang (on parallel bars) and Eli Shiheiber (on high bar); and juniors Casey Mahoney-Muno (on floor and vault), Josh Nicolasin (on rings), and Ari Lazar (on pommel horse).
Varsity Boys Gymnastics coach Steve Foerch said that hard work paved the way for the gymnasts that qualified for State.
"At the beginning of this year, I knew we had a tenacious bunch of athletes in our gym, but qualifying five of them to state was a lofty goal," he said. "As the season progressed, ALL of our gymnasts worked diligently to improve themselves and their teammates.  And improve they did!  In the waning weeks of the season, it became clear that we were a 'sleeper' team.  All of our state qualifiers began gymnastics as freshmen with no prior experience.  It was only through their hard work that they paved their way to State."
The gymnasts will compete on Friday, May 13 at the State meet in Frankfort.