Meet Me in a Minute: Taral Talati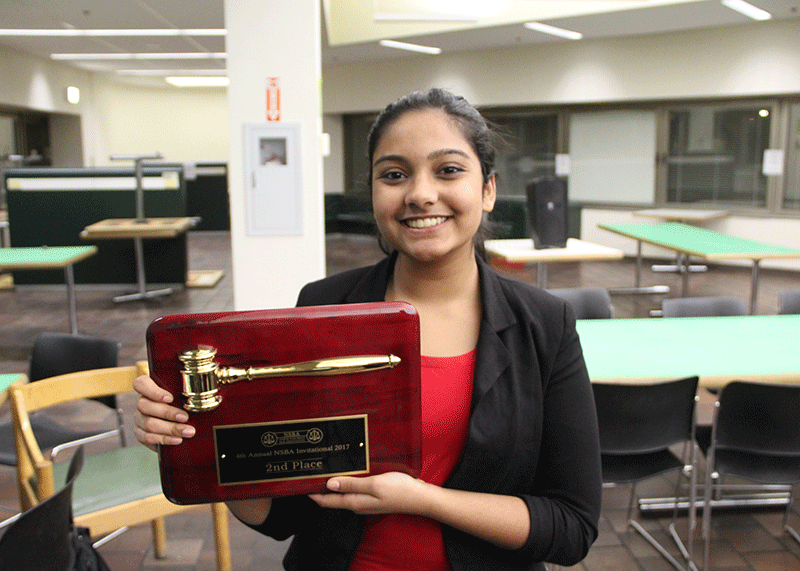 By Erin Kaihara
January 27, 2017
Silence washes over a courtroom as all eyes look towards the front. Suddenly, an attorney calls up a witness to the stand. With practiced ease, sophomore Taral Talati stands up and takes her position next to the judge. The judge asks that all too familiar question: "Do you swear to tell the truth, the whole truth, and nothing but the truth, so help you God?" To this, she replies with a simple, "I do." She sits, takes one deep breath, and the questions begin.
Besides being a Dance Marathon executive, participating in cross country, and holding a job at the Skokie Public Library, Talati is a second-year member of Niles West's Mock Trial team. In this club, students are given a court case and portray the roles of the prosecution, defense, and witnesses. The team competes against other teams from different schools and are critiqued by actual lawyers and judges.
When Talati first joined the club, she didn't expect that participating would have such a profound impact on her life.
"During the lunch periods in the first couple weeks of school, there were all these tables set up. I went over to the Mock Trial table and I signed up, not really expecting anything," Talati said. "The more time I spent at the club, the more I began to like it. I was able to make a lot of new friends and I got to know more people. I really love it now and I would never consider not doing it."
Last year, Talati won "Best Witness" in the state competition and just recently won "Outstanding Witness" again at Kane County this past Saturday, Jan. 28.
Mock Trial sponsor and social studies teacher Jason Stanford believes that Talati is a critical member of the team.
"Taral is not only one of the best witnesses on our team, she is one of the best witnesses in the state of Illinois," Stanford said. "As a freshman, she won an outstanding witness award at state. On Saturday, she won an outstanding witness award at a regional competition. She is one of the first members to have her parts completed and memorized. Taral is amazing."
One club member and friend, senior Stephanie Schmidt, also plays a witness and believes that Talati brings something special to the team.
"Taral's work ethic is unbelievable. She tries her hardest to not only memorize her parts but also to contribute to the other members. I would like to call her my little protégé, but she has this natural ability that she brought to the team all on her own," Schmidt said. "She's become an amazing witness and I know that when I leave, future witnesses will be in good hands."
Despite having competed at state and Yale, Talati still gets nervous before competitions. However, she enjoys being a witness because of how important her role is to the team.
"Right before competitions, I get so nervous because you go up there and everyone is looking at you," Talati said. "Once you're up there, that nervousness just goes away. The courtroom becomes your stage and you just get to perform. As a witness, it's important to be prepared because you're the one getting out all the facts and letting the jury and judge know about your story and what happened to you."
Next year, Talati wishes to portray an attorney as well as become a leader and eventually captain. The team's next competition will be held this Saturday, Feb. 4 at the DuPage County Courthouse at 9:00 a.m.