The Dakota Access Pipeline (DAPL) was pushed ahead by President Donald Trump on Tuesday, Jan. 24 in a presidential memorandum issued from the White House. The move came after his predecessor, former president Barack Obama ordered the U.S. Army Corp of Engineers to halt construction amid concerns voiced by native tribes and activists about the potential threat to water quality.
The pipeline is set to run underneath the Missouri River in North Dakota, the major water source for the Standing Rock Sioux native tribe. The project was initially delayed, with the Obama administration citing the needs for further analysis before the final part of construction under the river could begin. Trump's memorandum declared his administration's intention to expedite the review process for the pipeline, forgoing the additional review time Obama thought was necessary.
Protests have been ongoing since it was announced that the pipeline would run under the river, in land just north of that belonging to the Sioux tribe.
The debate over the pipeline had previously reached Niles West as well. Students in Dena Lichterman's Honors American Lit and Composition have led the the opposition within West, at one point even arranging for a petition to be sent to the entire student body.
These students first began voicing their opposition to the pipeline out of sympathy for the Native Americans who will be most affected.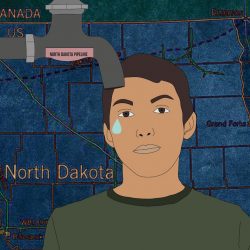 "I personally do not agree with Trump's decision to go ahead and pass an executive order to continue the pipeline," junior Kate Pendavinji said. "This disagreement comes from my sympathy for a culture that has been oppressed since Europeans came and belittled an entire civilization for their own personal gain. These people are constantly having their harmony completely ripped from them, and now, with the little land they have left, will get their drinking water taken away too."
"As far as I'm concerned, the Native American population has put up with enough in this country and the government has been relocating them for centuries, running out of places to put them," junior Brendan Micor said. "The Native American people deserve a break. Let them live life just like I am, just like my classmates are, just like my friends and family are. When it comes to being a human, there are certain rights that you just can't take away no matter how many documents you sign."
Another of Lichterman's ALCUSH students cited the importance of stopping the pipeline due to the danger it poses to the communities in North Dakota.
"I am very happy to be involved with this because helping stop DAPL is so important because it is putting so many people in danger," junior Anna Schafer said. "We have been doing bake sales, making calls to the White House. We've had multiple speakers come in and give us detailed explanations on the community up in North Dakota and how everyone is extremely friendly and accepting and are just there to protest and trying to make a difference to stop the pipeline."
Lichterman's junior classes have continued to bring the issue to the attention of the Niles West community by spreading awareness and working to raise money for the protesters.
"It is generally poor, underrepresented areas that don't get the quality drinking water they deserve, which is why I think that students at Niles West, who are generally more privileged, should take a stand and help raise money for Standing Rock," Pendavinji said. "Ms. Lichterman's ALCUSH classes have decided to sell puppy chow in order to raise money for the protesters staying at Standing Rock."
Several ALCUSH students will be hosting bake sales and puppy chow sales throughout the year to help fundraise money for those protesting the DAPL in North Dakota.
"Short term, the money raised will go to buying blankets, pillows, sleeping bags, food, water, and other necessities for the people and protesters in North Dakota," Micor said. "In the long term, we would like to raise enough money to afford medical supplies for local doctors to take with them to provide services to people out there as well."
Pendavinji also thanked Lichterman for her support and teaching, recognizing that the students wouldn't be able to accomplish their task without her.
"Ms. Lichterman is the best teacher I've ever had, and that she makes students want to go to class everyday," she said. "She puts all of her emotion into teaching us and leading us as a generation, and we couldn't do any of this without her."
Other Niles West students can oppose the DAPL by calling their local representatives, supporting the ALCUSH-led bake-sales, and donating or fundraising money for protesters.