From Wolves to Eagles: Niles West Athletes Participate in National Signing Day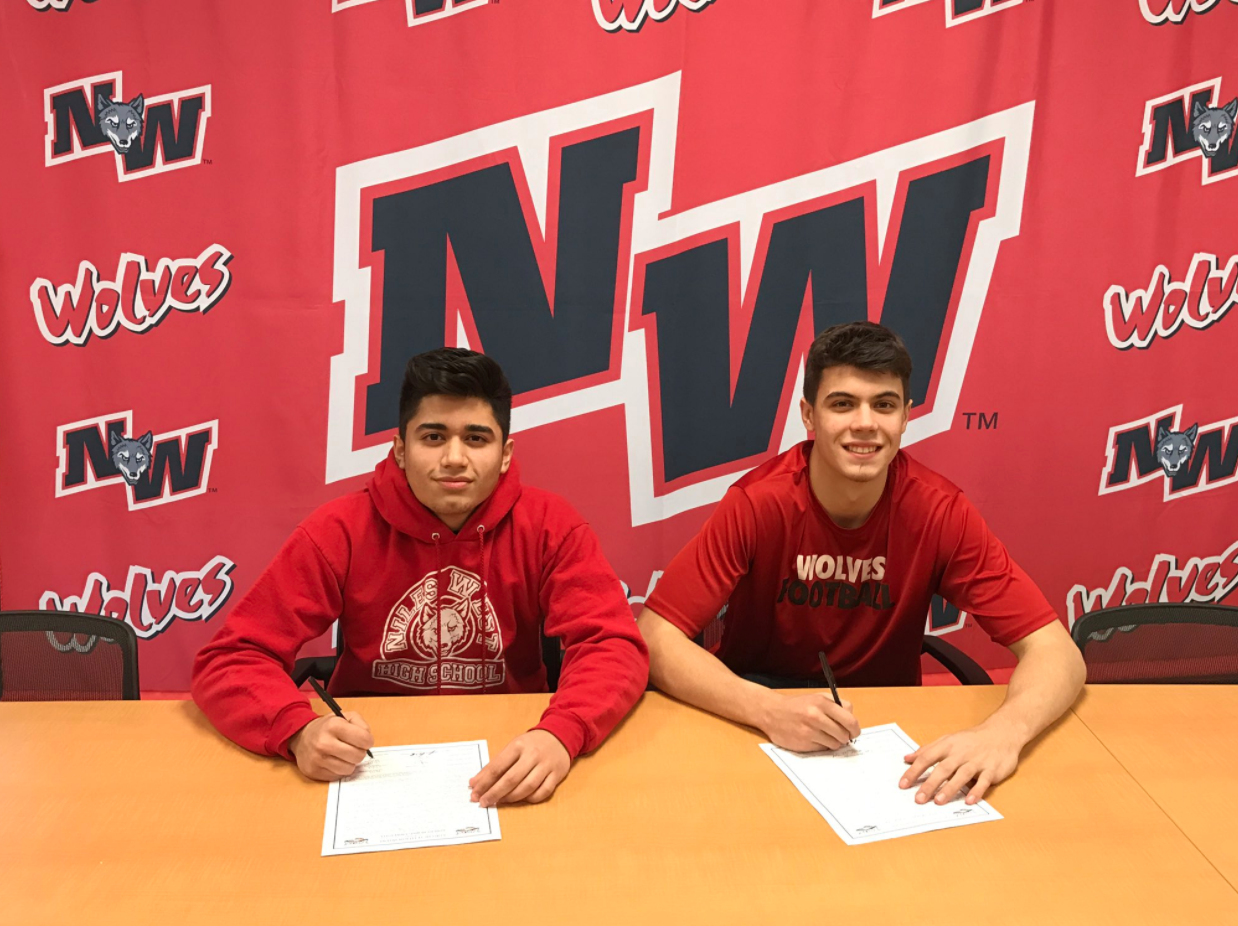 By Sana Kadir
February 2, 2017
Yesterday was National Signing Day for all high school athletes who want to continue their athletic career on the collegiate level. Seniors Ismail Patel and Dino Perocevic committed to Robert Morris University located in Chicago, IL to continue their football careers. 
Both Patel and Perocevic have dreamed of playing together since their freshman year, and it's a dream come true for both of them.
"We've been brothers on and off the field. I can't believe I got this amazing opportunity to play with him. This wasn't just a one-year process for us, it's been closer to four to eight. It started from feeder days, and when we hit varsity level, that's when things really exploded for us. When he called me and told me that RMU offered [him too], we were both crying tears of joy because all of our hard work paid off," Perocevic said.
Although these best friends will have each other, they're excited for the new brotherhood they're going to create at RMU next Fall.
"We've already met some of the guys and they seem really cool. It's really exciting knowing that I'm going to be playing with new teammates and having new competition," Perocevic continued.
Both their coaches and teammates are very proud of the accomplishment both boys have achieved and are excited to see what's in store for their upcoming season.
"I'm feeling very proud of these two young men. They both exemplify what hard work gets you, whether it's on the football field or in real life. They had a goal and a dream and they never thought negatively, they just went out and made it come true. That's the real success story of high school sports, when you get young people to believe in themselves and watch them accomplish great things," varsity football coach Brad Hokin said.
Like the rest of the Wolves football team, teammate senior Thomas Lappas is extremely proud of both his friends.
"After being with both Dino and Ish (Ismail) for many years between school and football, it is really nice to see their hard work paying off. Every day of summer camp they were there fasting, and everyday of practice they were getting better. They both deserve it and I can't wait to see them continue their football experience at the next level," Lappas said.
Along with many other Muslim athletes around the world, both these boys had different experiences than most athletes. The holy month of Ramadan in which fasting takes place has taken place in the summer for the past four years, but this has never discouraged either athlete. Although they weren't able to eat or drink from sunrise to sundown, both boys still attended practice and workouts and put in the work they needed to in order to reach their goals.
"I'm not going to lie, it was pretty hard to fast in the summer and want to drink water like everyone else, but it all paid off. We never forgot God and all He's blessed us with, so this is His way of repaying us. Obviously our coaches helped and motivated us to be faster, stronger, and better everyday, but we wouldn't have the ability we do without God," Patel said.
Although both boys thank God for their incredible achievements, they are also very grateful for the others that helped get them to where they are today. Both boys would like to thank all their coaches that trained them from their freshman year leading up to a special thank you to their senior year coaches Scott Baum, William Pistorius, Matt Hohs, Brad Hokin, Billy Oline and Mark Steger. Be sure to congratulate them on their hard work and accomplishments as they continue their journey from being Wolves to Eagles.