DECA Wins More Than 60 Awards at Regionals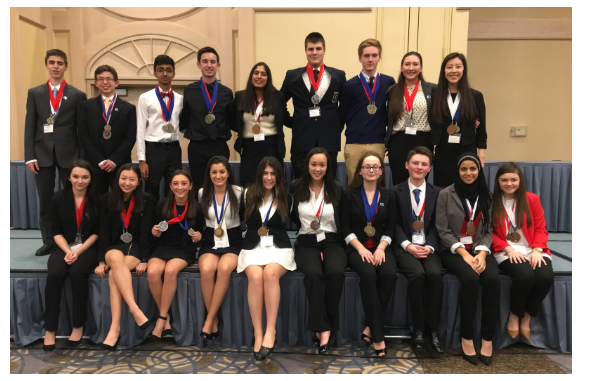 Hang on for a minute...we're trying to find some more stories you might like.
Niles West's DECA competed at the North Suburban Regional DECA Conference on Sunday, Jan. 29 at the Donald J. Stephens Convention Center in Rosemont, IL. Over 1,200 students attended the convention, and West's DECA came out as one of the most successful teams at the event, earning over 60 medals.
The team spent a lot of time preparing in different competitive role-playing exercises by collaborating with community and business leaders one-on-one. The different role-plays aligned with the National Curriculum Standards for DECA: marketing, business management and administration, finance, and hospitality and tourism.
Although some students didn't place high enough to earn a medal at the competition, they're still glad that they've received the experience in a field that could possibly become their career choice.
"This year was my first year in DECA. I competed in the Business & Administration Role Play at the area competition," junior Alisha Sayani said. "Unfortunately, I did not place high enough to go to the state competition, but I'm really glad I attended this competition because I've learned a lot about possible careers I might want to pursue."
Students spent large amounts of time preparing for the competition, though it varied with the different classes students took.
"The prepping part varies with what class you take in school," Sayani said. "If you take business strategies, you can prepare in school, but otherwise you have to do it outside of school. It takes a while to know all of the key indicators of the role-plays and what to do."
DECA members are happy for their teammates who won because of the dedication they have shown throughout the year.
"I'm really happy for my fellow club members that won," junior Zoha Ullah said. "They worked really hard throughout the year and were determined to win."
The following students received one Mini-Award along with Overall 1st, 2nd, or 3rd medal:  Peter Atsaves, Arijana Dibra, Eric Gassel, Lisa Jahjah, Carolyn Kedryna, Anthanasios Lappas, Mohammad Larya, Amanda Lee, Lexi Lee, Emily Mendieta, Jason Morgan, Kevin O'Brien, Irena Petryk, Emily Pak, Bradley Pawlow, Sadiya Raufi, Natalia Stachnik, Divitya Vakil, and Anna Urosev.
Many other students won one Mini-Award Medal on testing and/or role play performance and Distinguished Competency on their overall score, including: Chloe Babcock, Deven Damji, Tirth Gandhi, Patrick Holbrook, Jack Joseph, Sana Kadir, Jovana Lazarevski, Christian Mancino, Eric McLellan, Eric Mui, Muhammad Musani, Johnny Pabst, Janki Patel, Jake Peiser, Shameer Riaz, and Josh Sirbu.
Several others garnered a Distinguished Competency on their overall score:  Emil Comor, Mohammad Fahad, Ronak Gandhi, Mohammad Haque, Finn Holleran,Kathy Marma, Sila Shahab, and Isaac Stillman.
The following students earned competency on overall score:  Amair Amin, Ata Benjamin, Lily Born, Patricia Calma, Affan Farooqi, Kevin Guillaume, Bendy Jimenez, Syed Kabalazeda, Kosti Kalaras, Mohammad Ali Khan, Nauman Khan, Jibran Khandwala, Akash Patel, Arjun Patel, Ismail Patel, Ali Raufi, Nabil Saiyed, Alisha Sayani, Ebin Sam, Adonis Sejdiu, Roan Shaker, Jake Shimanski, Safa Shuaib, Evelyn Simovic, Josh Thomas, Alexis Tolan, and Zoha Ullah.
The Illinois State Career Development Conference in March will be the next level for those competitors who qualified.