Fat Boys Jerk and Soul Food really knows how to serve it. As I walked into the restaurant, I was instantly overcome with the smell and chatter of hungry customers waiting for their food. It might seem annoying to wait in line at such a small restaurant, but the food is definitely worth the long wait and possible claustrophobia.
The first thing that really catches your eyes about this restaurant is certainly the colors and the smell of food as you walk in. The wait for the food was almost 20 minutes, but having a visible view of the food being cooked makes the wait worth it.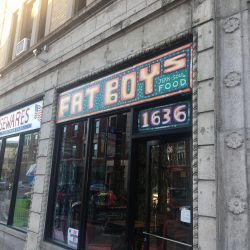 I ordered fried chicken and jerk chicken, and it was honestly the best type of chicken I have ever had. They were both juicy, fresh, and smelled delicious. The french fries had the perfect amount of spices and flavoring to make them some of the best french fries I've ever had. The jerk chicken was a little spicy, especially the first bite, but as I continued eating it, it was simply delicious.
The restaurant itself is pretty small and quaint, making it hard to imagine how I would be able to move if there was a lot of people in there. Waiting for the food was a little rough, considering the door kept on opening and closing, allowing cold air in. But the warm food was definitely worth waiting and possibly catching a cold for.
This restaurant has some of the best soul food I have ever tasted, and if you ever find yourself in the Rogers Park area, make sure to stop by Fat Boys Jerk and Soul Food, which is open Tuesday through Sunday from 12:00 to 9:00 p.m., and taste some of the best food in Chicago.