Niles West Math Team Places at State
By Mara Shapiro
May 18, 2011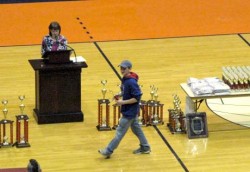 The Niles West Math team placed at State at the University of Illinios Urbana-Champaign, Saturday, April 30.
Sophomore Patrick Liscio won first place in the Geometry category.  Freshmen Mahnoor Bhatti, Tina Conis, Nancy Ho, and Peter Kundzicz, as well as sophomores Theodore Truong, Liscio, Rudy Newman, and Colleen Persaud, took fourth place in the Frosh/Soph 8 person team category.  Sophomores Joseph Cohen, Basia Gawin, Truong, Newman, and Andrew Kim took tenth place in the Geometry team category.
Liscio said he feels proud of his accomplishment.
"[I feel] pretty good," Liscio says.
Other State qualifiers included juniors Michael Nissan, Rishy Chacko, Zoya Momin, and Akshar Kumar, as well as seniors Neha Jain, Jose Alvarez, Antonio Kim, Eric O'Neill, and Aneesh Seghal.
Coaches are Math teachers Robert Nortillo, Sean Delahanty,Vanessa Brechling, Tayyaba Ahmad, and Matthew Fahrenbacher.
"We had some very impressive performances at State.  Patrick's 1st place in Geometry is the only top finish in State that I can recall.  Earning top-10 finishes in two other frosh-soph team categories really bodes well for the future of the Math Team," Fahrenbacher says.