A Streetcar Named Desire: Desirable to Watch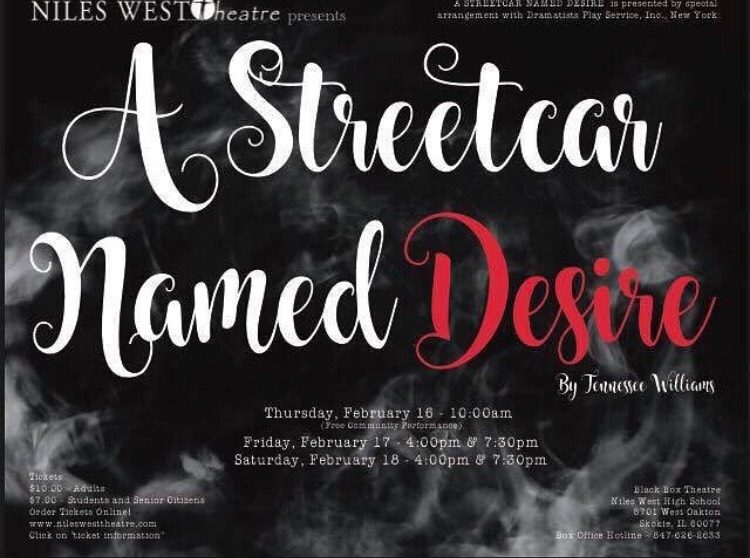 By Lisa Jahjah
February 16, 2017
 Though "A Streetcar Named Desire" is older and more of a classic than the usual plays held in the Black Box Theater, the audience is sure to be unbelievably surprised at how relevant and important the show is in today's society.
The play will be showcased Thursday (the community performance), Friday and Saturday.
"A Streetcar Named Desire" has become an American classic, the play which was originally a book was written in 1947 by Tennessee Williams. The play is about a character named Blanche DuBois who goes to visit her sister Stella Kowalski and new brother-in-law Stanley Kowalski under mysterious circumstances. The play continues to show that Stanley and Blanche do not get along and continuously find dirt about each other. "It's one of those classic American dramas that is all about how you can't outrun your secrets because those secrets will always catch up with you," director Andrew Sinclair said.
This will be one of the most ambitious shows that the Black Box will be putting on by far. Not many high schools perform this play because its dense literature and its wordiness make it a challenging play.
"The reason why we did this play was it was important to do a classic in our season, and I wanted something that was a classic American play that still felt really contemporary," Sinclair said.
Normally, the rehearsal time is somewhere between 4-6 weeks before the show. This year, though, the theatre crew had only three and a half weeks from the first rehearsal to opening night. "This is the most intense, shortest amount of time we've ever worked on a show," Sinclair said.
The play includes fifteen people in the cast, but there are four principle characters.
"Throughout this process we did a lot of table work, which is going through the script and analyzing our characters," junior actor Anthony Saldana said.
The main character, Blanche DuBois, will be played by senior Alana Knobel, Stella Kowalski will be played by senior Stephanie Gubin, Stanley Kowalski will be played by Saldana, and lastly Harold "Mitch" Mitchell will be played by junior Sean Collins. Make sure to keep an eye out for not only these characters but the eleven amazing others in the play as well.