Send off to State Held for Boys Swim and Dive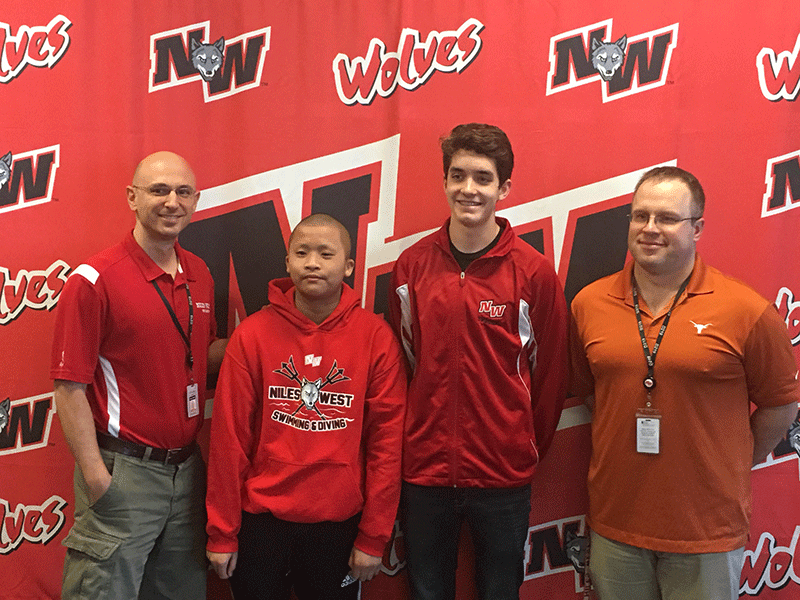 By Erin Kaihara
February 23, 2017
The Niles West boys Swim & Dive team competed at the IHSA Sectional meet this past weekend. Senior diver Brendan O'Shaughnessy and sophomore swimmer Kyle Avenir qualified for the state meet.
At the state send off, head swim coach Jason Macejak made a few remarks about O'Shaughnessy's accomplishments during the past four years.
"Brendan is ending his diving career at Niles West by going to the state meet. Last year he was ranked in the low 30's, but this year he hopes to break the 30 mark. He's our record holder for the Fresh/Soph diving for 6 and 11 rounds. When he's gone, he's still going to be up on our pool on that record board. That's his reminder to us of what he's done for our program," Macejak said.
Even though this is O'Shaughnessy's third time going to state, he is still excited to have qualified.
"This time I'm the least nervous, which is surprising. I have nothing to lose because I feel like people aren't going to remember how you place in state, it's just that you get there. I'm just going to enjoy this weekend," O'Shaughnessy said.
According to Macejak, Avenir has worked really hard throughout the season to get to where he is now.
"Kyle will be representing himself in four events this weekend. He qualified for the 200 free, 50 free, 100 free, and the 100 breaststroke. It's his first time going to the state meet, and we're really excited about it. He worked really, really hard to get there and we look forward to him representing our school," Macejak said.
Since this is Avenir's first time going to state, he says he doesn't really have any huge goals or expectations. Avenir is happy to have the experience and just wants to have a good time.
"I don't really have any goals for this weekend. I just want to have fun," Avenir said.
State finals will start with diving beginning Friday, Feb. 24 at 9:00 a.m. and swimming will take place on Friday and Saturday, all held at New Trier High School.