Dance Marathon: A Huge Success
By Isabelle Davis
May 17, 2011
Hang on for a minute...we're trying to find some more stories you might like.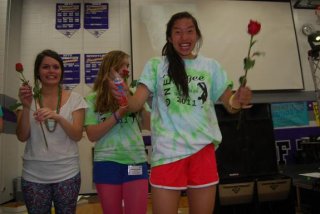 Niles West and North came together in Dance Marathon raised $85,603 for Refugee One, a charity which helps to sponsor hundreds of refugees, mainly from the Middle East.   The dance was held Saturday, May 15, and about 200 students and 25 refugees, who have been helped by the charity, attended.
Head sponsor of the club, Dena Lichterman, said she is especially proud of the amount of dedication coming from the 400 students involved in Dance Marathon.
"The students raise money and awareness and give up their free time throughout the year, and it's all for charity.  I love that," Lichterman said.
Senior Cristina Castro, a member of DM, says that this was one of the best Dance Marathon events that she has been to.
"Seeing all the refugees come and enjoy the party with us was the best part, because it was all for them," she said.
The charity for next year will be announced to the DM staff next week, and  Lichterman says she is very excited about it.