Coach Williams Returns for Final Game, Wolves Lose in Regional Semifinals
After the unexpected return of head coach Bob Williams, the Niles West Wolves varsity boys'  basketball team put up a strong performance in the Regional Semifinals against the higher seeded Evanston Wildkits Tuesday night at home, keeping the score within eight points for the majority of the game, but falling short 55-35.
The Wolves bench was back at full strength after the team bested Maine East on Monday night with the guidance of assistant coach Kyle Braheny while Williams was on paid administrative leave. Williams was not expected to be on the sideline tonight, but reportedly was cleared last minute to coach the Evanston game.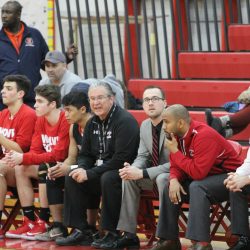 According to athletic director Kendall Griffin, the district office notified him an hour prior to the game that Williams was granted clearance to coach the game.
Williams, who is slotted to retire at the end of this school year, said he was still shocked that his coaching career is over.
"It hasn't set in yet, my thoughts are on the kids, who played their hearts out, and Evanston is a really good team," he said. "We had our chances and just lost it towards the end of the third. I don't think a lot about the big things, and I just want to think about the things in front of me right now. I just wanted to do the best I could for the kids tonight. I don't think I'll coach basketball, I don't know what I'll do, we'll see, I have no idea."
District administrators concluded the investigation regarding the status of William's paid administrative leave. He will return to his position as the director of the math department, and resume his regular duties at Niles West, according to a statement released by Jim Szczepaniak, the director of community relations and strategic partnerships.
In the statement, Ed Murphy, assistant superintendent for human resources, stated: "We are glad we were able to come to resolution on this issue. On the one hand, given some of the violations of district policy that have made headlines in recent years, we must take any allegation seriously and investigate it thoroughly. On the other hand, we have a deliberate process in place to make sure that all of our employees and administrators are provided due process."
Grace Geraghty, Sana Kadir, and Inana Zomaya contributed to this story.