Meet Me in A Minute: Dany Rodriguez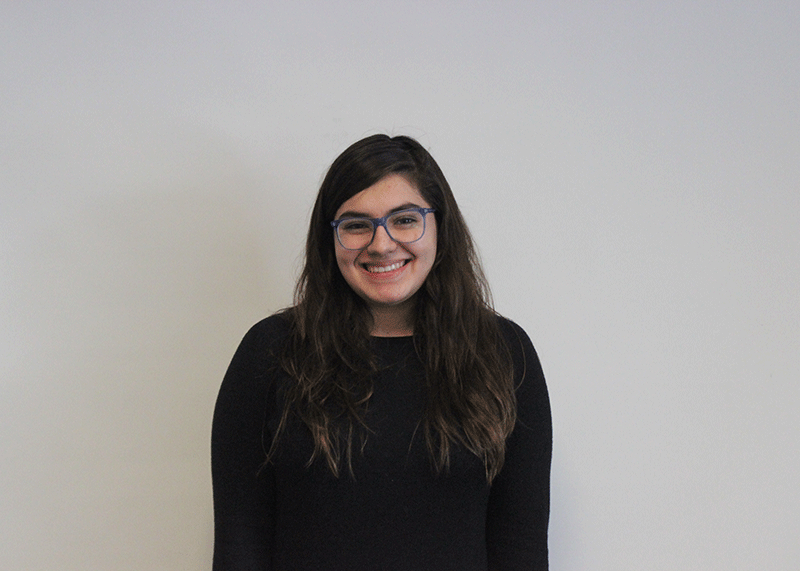 By Hannah Youkhana
March 16, 2017
The lights dim and the crowd goes silent. Junior Dany Rodriguez removes her glasses and clears her throat. Her vision is blurred, but her mind is clear. She takes a few deep breathes and then opens her mouth to deliver a poem that could make you feel the same passion for poetry that she does.
Ever since Rodriguez was young, she's been interested in writing. However, it wasn't until her sophomore year when she became interested in slam poetry.
"My favorite part about poetry is how detail-oriented it is. In poetry, every movement, word, and emphasis counts; that is what makes poetry so powerful," Rodriguez said. "I also love how much it can mean to someone, and how you could express your feelings through words."
Rodriguez was quickly recognized by her creative writing teacher and now coach Paul Bellwoar. Bellwoar saw the passion she had for writing and asked if she was interested in joining Niles West's slam poetry team, A Tribe Called West.
Rodriguez joined the slam team her sophomore year here at West. Along the way, she has met many supportive people and made new friendships.
"In our relationship, I am the mother in A Tribe Called West and she is my child. She has grown to be one of my best friends in the past year. I honestly don't know what I would do without her; she never lets me down," senior Roblyn Antenor said.
Dedicated, bright, fun strong, caring, and overall a beautiful human being were all words Rodriguez's friends used to describe her.
"She always brings her A game to each meeting and to each of her pieces. There's never an instance where you would think she not giving her all into it," junior Phong Lai. "She's been a friend who has been supportive of my journey into poetry, and she always inspires me to work harder."
Rodriguez keeps herself busy by being a part of the swim team, the water polo team, junior cabinet, and theater here at Niles West.
"My plans for the future are to go to college and study education. I hope to be a middle school English teacher," Rodriguez said."My plans for the future in terms of poetry are having a strong lineup for next season and to continue to become a stronger writer."
Rodriguez's work ethic and personality has inspired many of her peers.
"Her impact on me is her constant positivity. Dany is the type of person who is alway willing to help you out; she has a true passion for helping people," Antenor said. "You could see her in the hallways on your worst day, and just the flash of her smile will make your day ten times better. She's just that type of person."
Rodriguez is constantly inspired by Bellwoar and considers him a mentor because of the positive impact he has had on her life.
"Dany has a sublime sense of being happy. If you notice it, it will always make your day just a bit brighter," Bellwoar said. "She also has a relentless drive to improve herself."