Niles West Mock Trial Team Places Top 8 at State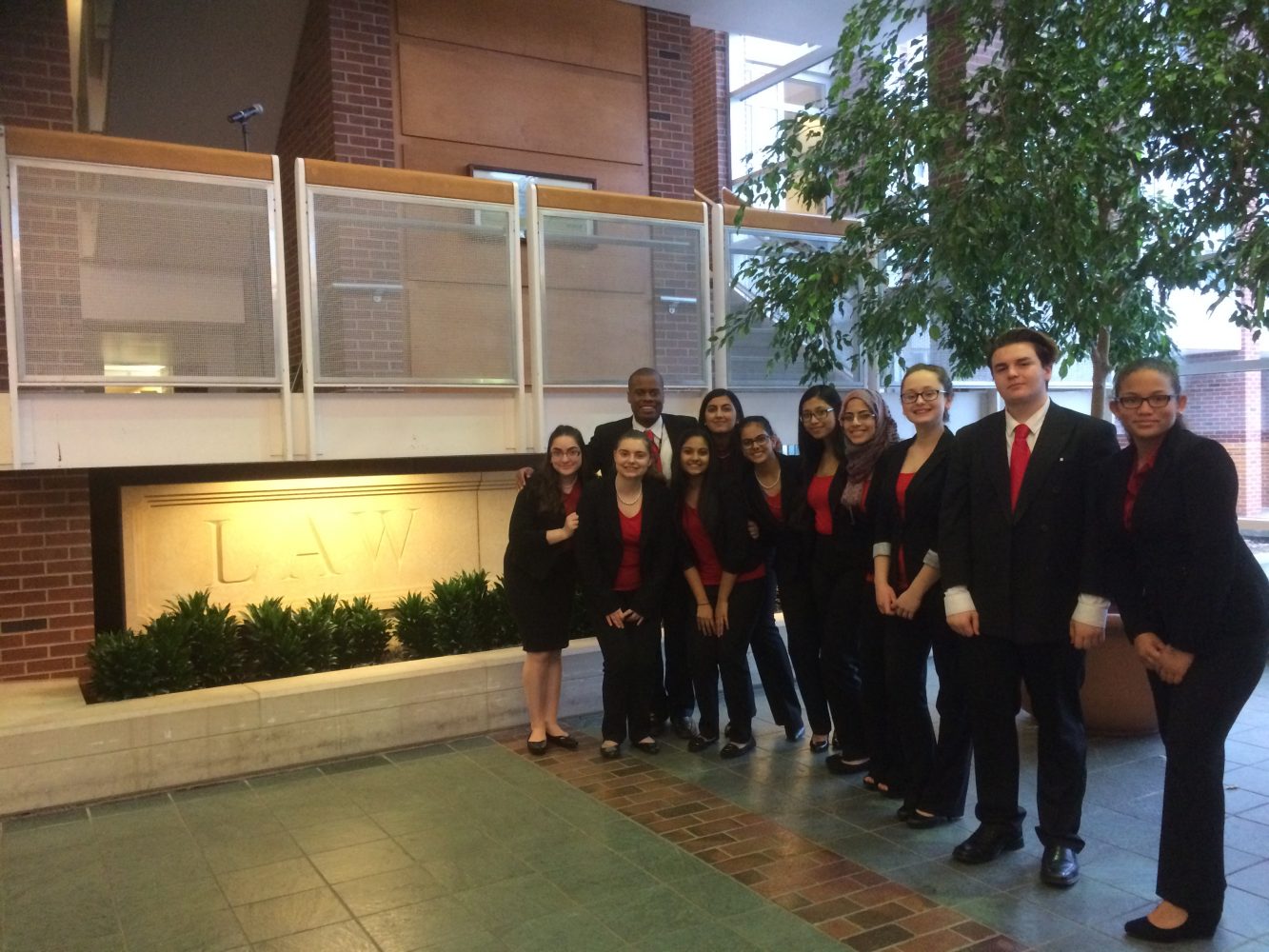 By Duaa Israr
March 14, 2017
For the first time in Niles West history, the Niles West Mock Trial team placed in the top eight at state on Sunday, March 12. The state competition is held at the University of Illinois in Champaign-Urbana every year and is the largest mock trial competition in Illinois, consisting of 44 high school teams from all over the state.
Every year, teams all across the state are presented a "problem" through the Illinois State Bar Association and spend a majority of their school year discussing the problem, finding ways to argue and support it, and memorizing the testimonies. Students then portray the role of attorneys and witnesses in courtrooms in front of legitimate judges and a jury comprising of practicing attorneys.
This year, the problem — or case, as more commonly referred to by members — was the People of the State of Illinois v. Taylor Cartwright. Cartwright was being charged with manslaughter and hazing due to the fact that a fraternity pledge by the name of Jessica Bates had died while participating in an initiation activity by the name of Water Jeopardy which was hosted by Cartwright. Students then had to fight for both sides of the case and find evidence from the packet that they were given to support their arguments and find ways to dismantle another team's arguments.
"The case was something we hadn't encountered before. It had fewer flaws but it was difficult because it was a criminal case. I enjoyed it because we had never dealt with a case that had a dead victim and no testimony from that victim. Even though it was somewhat hard, I enjoyed arguing this case. It also freaked me out a little about the Greek life in college," senior and captain Asma Akram said.
Led by social studies teacher Mr. Jason Stanford, this year is the fourth year that Niles West has had a Mock Trial team. Stanford says he owes a lot to the returning members of the team and credits them for helping build a successful team and mentoring new members.
"It feels great to place top eight in the state. Our team has worked incredibly hard this season, I am proud of our team. This year, I wanted to focus more on having veteran members lead the team. Asma, our team captain, and the rest of our returning seniors are a big reason why our team was successful this year. Our returning seniors worked incredibly hard to teach new members the basics of mock trial," Stanford said.
Seniors Stephanie Schmidt, Janki Patel, and Akram have been a part of the team since its creation and are extremely proud to see how far they have come, both individually and as a whole.
"I was extremely excited when I found out that we placed top eight. It has been our team's goal since we started out four years ago, but I had to stay calm and relaxed because right after we found out, we had to go back to compete for the final round," Schmidt said.
Not only did the team place top eight, but all three attorneys — Patel, Akram, and freshman Irena Petryk — received top attorney awards.
"I got the best attorney [award] and this has been the first time I got it after three years, and it's amazing that I was able to close on my last season in mock with this award," Patel said.
Mock Trial hasn't always been easy, and this year definitely proved to be a challenge. Going into the school year, the team had to deal with the loss of their previous captain. A few months later, the team began to lose more members and were forced to reevaluate.
"A lot went on in the beginning of our season and we lost a lot of members during the year that were important for the team. I am so proud that our team made the adjustments when they could and helped any member when they were going through a rough time. We did well this season, but we didn't know what would happen going into State since over 40 teams were competing," Akram said.
Akram, who was voted as captain at the end of the previous year, devoted an immense amount of time to Mock, building off from previous years and shaping the overall mindset of this year's season.
"I felt a lot of pressure this year as captain. Our captain last year did a great job and I had to exceed expectations from my team and our coach, Mr. Stanford," Akram said. "When we made top eight and received those individual awards, a weight was lifted off of my shoulders.  The outcome of this State competition told me that I impacted the team positively in some away and did well assisting the team and Mr. Stanford."
The prep for State has been a long journey, consisting of tedious practices that sometimes lasted for longer than they did in previous years. On top of practices, the team increased their participation in local competitions to prep for State and to understand the material that other teams would bring.
"We prepped endlessly by practicing every Tuesday and Thursday till five. During the weekends, we had a few meetings at the Skokie library. We also met up during teacher institute days and other holidays. Once State started to approach, we started adding Wednesday practices from four to six," Schmidt said. "Some changes we made with the team overall was that we had a team that consisted of predominantly upperclassmen. This year we had two sophomores and a freshman that made the state team because they worked so hard and did so well at practices. We also did many more competitions all around that helped practice and change our material several times over the course of the season."
For Petryk, watching herself grow and learn from the upperclassmen made a large difference in her demeanor, which positively impacted the team throughout their competition season. She was able to rely on her teammates to guide her throughout trials and has learned what Mock should look like for another successful year next year.
"Being a freshman on the state team was bewildering. I hardly knew what I was doing at my first trial, but it's been a great learning experience. The seniors on the team have so much experience and know so much, and they've been kind enough to share that knowledge with me. I've grown a lot," Petryk said. "At the beginning of the season, I was always nervous before trials. Nervous about forgetting my directs, stumbling over entering exhibits into evidence, blanking during objections. Seeing my teammates perform their parts without fear helped me overcome my nervousness and build my self-confidence."
Sophomore Taral Talati has been a member of Mock Trial since her freshman year and was awarded best witness at State. Talati, who will undoubtedly be a leader next year, has already started to plan what next year should look like and how to achieve more wins.
"Hearing them say Niles West while announcing the top eight was a wonderful feeling. In the two years that I have been on the team, I have to say that moment was the most special. Our hard work paid off. For next year, we are going to start off the season by participating in a competition right off the bat. This will give us opportunities to improve ourselves for State," Talati said.
Petryk has a few ideas for building on top the accomplishments that the team achieved this year. She plans on being more vocal towards incoming freshmen and helping them discover Mock and experience what she was able to this year. Of course, that also involves the numerous jokes and pranks the teams pulls on Stanford.
"A lot of our team are seniors and will be leaving next year. I'd like to recruit more members, both people already at Niles West as well as incoming freshmen. Winning an invitational or placing Top 8 at State again would be nice as well. It feels great, and a lot of people helped me get to where I am today. Asma was the constant driving force of our team, Janki taught me bomb cross-examination techniques, and Taral is the best witness an attorney could ask for. Even Stanford gives some pretty good advice sometimes," Petryk said, jokingly.
Stanford is extremely proud of the team, and despite their many jokes about him, is honored to know each and every single one of them and to have had the opportunity to work with the students and watch then grow.
"Our goal moving forward is to continue to provide opportunities for team members to practice their public speaking skills in competitions in the state and around the country," Stanford said. "I am proud of everyone on the team, we made history this year. This is only our fourth year existing as a team, and it's great that we were able to finish in the top eight at state. Niles West Mock Trial has a very bright future and I am honored to be the coach of a great group of students.
Despite not advancing to nationals, current members have high hopes for the team and the hands that they are leaving it in. But going beyond the win, many of the members are simply appreciative of the bonds and the friendships they have made, as well as the memories they have shared.
"Mock is the one part of high school I will never forget. I have gained some fantastic friends and have learned a great deal. I'm really sad that it's all ending but I know that the team will do great in the future and one day hopefully goes to nationals and win," Patel said.