Spring Orchestra Concert to be Held Wednesday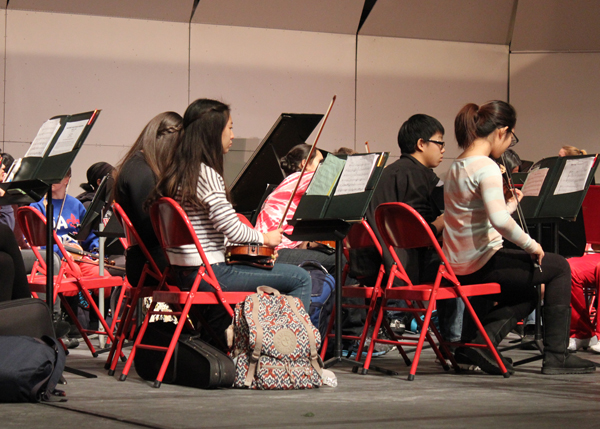 Hang on for a minute...we're trying to find some more stories you might like.
Niles West's orchestra's third and final concert of the year is set to hit the stage on Wednesday, March 22 at 6:30 p.m. in the auditorium.
Orchestra members are excited for the final concert of the year, but many seniors are sad about this being their final concert at West.
"We've been preparing nearly every day since our winter concert in December. I'm really looking forward to our last full concert experience. Everything from the pre-performance jitters to the things Mr. Katz says to give us a confidence boost during our last run-through before the concert, and even the powerful stage lights when we get on stage," senior Mikhail Shah said. "It's going to be even more special this time knowing we won't get this same experience at Niles West again."
Many seniors are extra emotional, as orchestra director Steven Katz is set to retire after this year.
"Since I am a senior, I'm really sad to finish off my last concert," senior Kristeen Bebla said. "Mr. Katz is retiring the same year we graduate, so it's been even more of an emotional roller coaster for us seniors."
The members of the orchestra have been looking forward to sharing their hard work for this concert with everyone in attendance.
"We have been practicing our music a ton, and we really want people to come listen to us because we put a lot of effort into our pieces. We work long and hard to make sure our dynamic range and intonation are perfect," Bebla said. "We are really excited to showcase our piece called 'El Finale' by Tchaikovsky; it is one of the most difficult pieces we've had to do."
Although it may be sad that this is the last Niles West orchestra concert for Katz and the seniors, it's also special knowing that they were able to spend their four years of high school with him as their teacher.
"It's going to be an emotional moment for a lot of seniors, as this is the last time we're all getting on the auditorium stage to play. Not only is it our last concert, but it's also Mr. Katz's as well. That makes it much more special since we're his last class to be with him for all four years," Shah said.
Going to the concert gives other students the chance to support their classmates and peers with all the work they've done in order to provide an enjoyable concert for everyone.
"It's a great way to support your friends and see what they've been working hard at for months. The pieces chosen by Mr. Katz are amazing. Every song is interesting to listen to and has it's own unique style and theme," Shah said. "We practice every day, and over the course of a few months it adds up to a lot of time spent, not only learning the music but also polishing all the fine details in each piece."