Teacher Tuesday: Mark Medland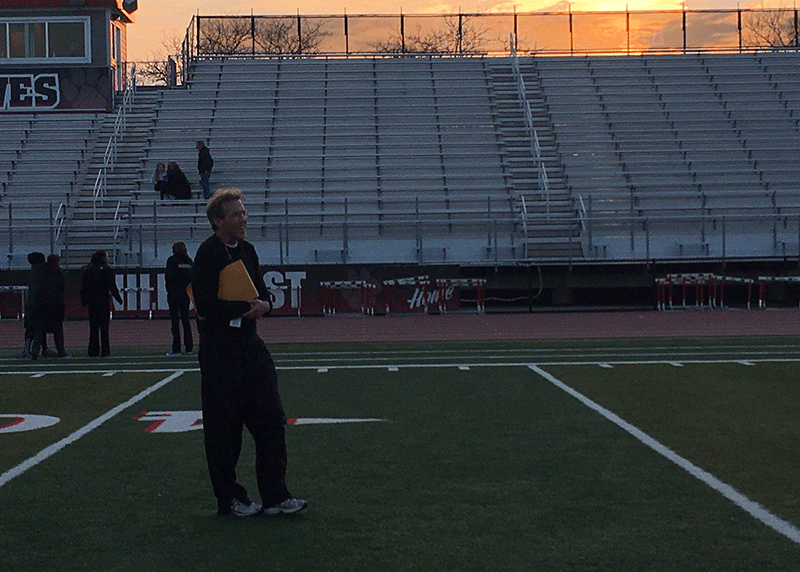 By Inana Zomaya
April 18, 2017
For the past four years of my high school career, Mr. Mark Medland has made a substantial impact in my life. I distinctly remember walking into the first track practice of my freshman year which was held on Martin Luther King day. Two months into the season, when Medland singled me out and asked for my name, I thought I was in trouble. He asked if I might be interested in hurdling. I told him that I was 5'2″ and my waist was about the same height as the hurdle. There was no way I could do that. He chuckled and said, "You know, the fastest hurdlers aren't usually the tallest ones."
Medland has been involved in education for 33 years; 26 of them having been at West. He's always been immensely devoted to his work and his students, but after 33 years of being involved, "It's time," as he put it.
"I felt like being a counselor would keep me connected to the kids. You think about these 33 years of being involved in teaching, counseling, and coaching and look over all the memories you have of these various students. I think back to all these students I've had, and  a majority of them were positive," Medland said. "You think back to all those connections and see it's been a a lot of fun for me. You see these kids achieve their goals, you know, getting into college, achieving 300 hurdle times, whether they're going to be a qualifier or not. Just the other day, I had a couple of students let me know that they've gotten into the college of their dreams. That's always fun as a counselor to know that piece."
Prior to coaching and counseling at Niles West, Medland taught science at Resurrection High School in Waukegan. Although Medland enjoyed his job, the distance from his home to Waukegan was simply too long to commute every day. He then moved on to Golf Jr. High School and began his job there as a science teacher as well as a coach of multiple sports.
"I was a biology science major at Eastern Illinois and got my first teaching job at Resurrection High School. I stayed there for a year and was offered a position up at Waukegan as a science teacher and a swim coach. Due to the 30 miles drive back and fourth to and from work I only stayed there for a year. Golf Jr. High School contacted me and offered me a position as a science teacher along with coaching volleyball, basketball, and track and field," he said.
After spending some time at Golf Jr. High School, Medland moved on to West. At West, he became a counselor, a teacher, and coached several sports. Once his daughters were born, however, Medland stopped coaching everything except for track, which he has held on to up until his retirement.
The truth remains that Medland is more than just a coach. He is a role model on and off the track, someone everyone can look up to and consider a second father. Medland has inspired not only me, but many people. His words of wisdom are something that we all carry with us every day. Many students and alum appreciate his drive and how he has helped them in the real world, even after graduation.
"Medland always did this thing where he would pound on his chest and say, 'A little bit of this [heart], a little bit of drive.' That is something I took with me even when I went to college. Especially in grad school, things are so hard, and they never stop. They just keep going, and that is something that always stuck with me. You take your heart and you put everything into it: just keep pushing; just keep driving," Meril Mani Niles West alumna from the Class of 2012 said.
Rita Dawod, another Niles West alumna, shared her memories on how Medland ran practices and how he found the perfect balance between workouts and having fun.
"Medland would tell us that if we wanted to go and catwalk down the track, do the cancan dance, or just be goofy we could, as long as we came back and got our workout down. He would kick our butts for twenty minutes and have a dance party for five minutes," Dawod said.
During this year's past Niles West Invitational, where schools such as Niles North, Resurrection, and many more schools come to compete, the rest of West's track coaches, along with the Athletic Department, awarded Medland the honor of naming the invitational after him: the Mark Medland Invite.
"Mark Medland has given us 26 years of energy, dedication, and commitment to the girls Track and Field program. It is so much more than the coaching piece. He truly cares about his student athletes and helping them through the progression of high school, and once they leave high school as well," assistant athletic director Terry Laux continued. "This [honor] was actually the least of what we could do."
The most important thing to Medland is that his students are able to achieve their goals. Knowing that he has done everything in his power to help them is all the recognition he needs.
"To me, the greatest joy that an educator can have is seeing their students achieve their goals. Those are the things that I won't forget," Medland said.
Medland, I want to thank you for teaching me how to jump over hurdles without falling, and to thank you for teaching me to be a hardworking individual who strives for success. Thank you for being my rock. Thank you for encouraging me and supporting me in all my decisions. Thank you for being my role model and the best coach anyone could ask for. Thank you.