Christine Kim Wins American Visions Medal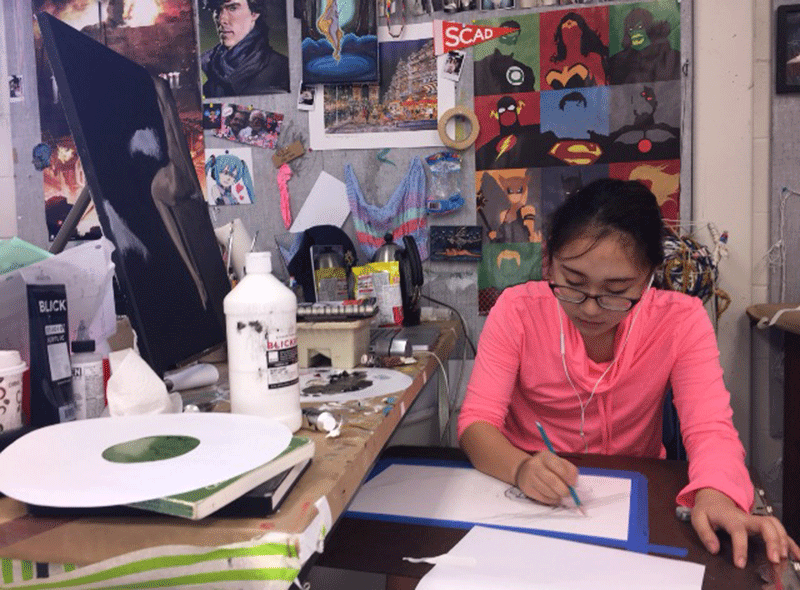 From the pile of books found on junior Christine Kim's shelf, one has always stood out in particular. Six-year-old Kim used to spend most of her hot summer days inside, tracing pictures from her favorite Hello Kitty coloring book.
Kim's art did not go far beyond her doodling and sketches until she entered high school, where she decided to enroll in various art courses. Latching onto inspiration from her two primary art teachers, Ms. Deanna Sortino and Mr. John Zilewicz, Kim finally began to see herself in a position where she would be able to pursue her talents further.
"I've always been interested in art, but I had never considered it as a career until this year. As I began to take more art classes, my view really did change, especially because of the teachers. Mr. Z and Sortino really have made me think of art in a different way and are major encouragers of my work," Kim said. 
This past semester, Kim had been enrolled in Sortino's Photography 1 class. Though this was the first time Kim touched a digital camera, it was obvious she had a talent. This became clear after Kim's photograph for the annual Meatyard project (where students are required to capture a scene with the eerie undertone of photographer Eugene Meatyard's style) went beyond the classroom qualifications and took off in the art world.
"The guidelines of the project include having to have visual framing and someones identity covered. Her piece was so unique because it really captured a decisive moment and the reactions on these little girls faces," Sortino said. "When I create projects for the kids, I try to make sure they have the chance to take what I'm giving them and put their own flare on it. Christine not only exemplified this, but she took the entire project above and beyond."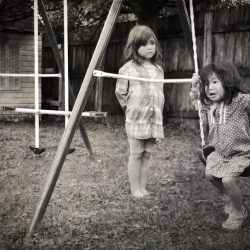 Kim's winning piece "Hannah and Khloe" features Kim's two cousins, with one rocking on the swing while the other is standing beside her. The reactions on the two girls came from utter shock and were completely natural, making the piece convey the feeling that is does. With just the right angling, Kim captured the "Meat-Yard Effect" perfectly — not only earning her an A on the project, but also recognition worldwide.
Kim's photo breezed past the regional division, winning a Gold Key — the top honor award in the division. This sent Kim to nationals, where the judges were to pick five pieces from any category of all regional winners to continue to compete nationally. From this very small pool of the best-of-the-best, Kim's piece earned the American Vision's Award, which is equivalent to "best in show," with "show" meaning nation. This is the first time a Niles West student has competed for this award, let alone been recognized nationally on a grander scale. Sortino had to call the Scholastic Arts office to learn about the award itself, since she did not even realize how notable it really is.
"This is a huge honor — I've never received an actual/official award in anything. Though the entire experience is amazing, what I am looking forward to most is going to New York to see my artwork on display. I think it's really cool and makes me think that I have a chance to go into art school and pursue it as a career," Kim said.
The spotlight is not only shining on Kim, though. With a Niles West student winning a national award, all heads are turned to applaud the teachers of the Art Department, as well as the section overall. Sortino feels proud to know that the art teachers are helping kids create pieces that are really showing off their artistic voices, and Kim could not seem to agree more. 
"We should invest way more into the Art Department, since people can now tell that our teachers deserve much more recognition than they actually receive. They put their blood, sweat, and tears into art, and they are always put to the side. They're awesome," Kim said. 
Not only does the department look up to Kim's work, but the art students at Niles West feel as if Kim serves as an inspiration to their future works. Senior Edie Alvarado looks up to Kim not only as an artist, but as a person as well. She feels as if her unique qualities and accomplishments will serve to set as an example for students to come.
"Christine is a very versatile artist who can work well in any medium. Her creativity and efficiency pushes through any problem she comes in contact with. She pays close attention to every little detail, and she is her own biggest critic, making her work continuously exceptional. She deserves all the praise and recognition she is getting from this award. It's time for people at this school to appreciate artists like Christine," Alvarado said.
Kim will be traveling to Carnegie Hall in New York from Wednesday, June 7 to Friday, June 9 to attend the celebration of her artwork. The awards ceremony will be on Wednesday, June 8, and there will be an exhibit of all the awarded artwork on the ninth.
About the Writer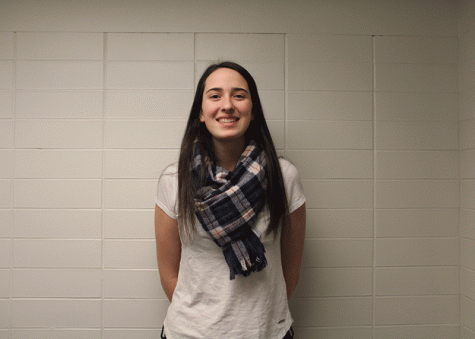 Nicole Zelazko, Arts & Entertainment Editor
Nicole Zelazko is the Arts & Entertainment editor for the NWN. When not playing for the school varsity volleyball and basketball teams, Zelazko enjoys...