Jazz Band Concert to be held Tuesday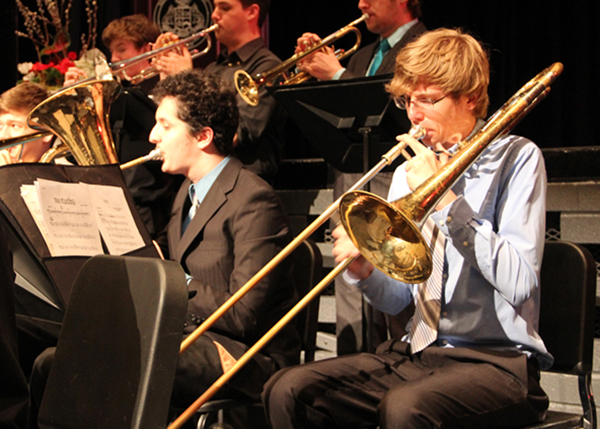 By Hannah Youkhana
April 7, 2017
The upcoming spring concert for West's jazz band will be held on Tuesday, April 11 in the Robert L. Johnson Auditorium at 6:30 p.m. This year's theme will be the history of jazz.
The upcoming concert is special to the members of jazz band for several reasons. First, April is National Jazz Appreciation Month. The band will also be hosting a special guest artist, Scott Anderson, who is set to preform various pieces of music with the students.
Director of the jazz band Ryan Adamsons is very excited for everyone to see the jazz band preform.
"The whole event should be great, but I'm personally most excited to see our kids preform such varied literature with Scott. As a trumpet player myself, I know how challenging the program is, so this should be fun," Adamsons said.
Senior trumpet player Bianca Pop can't wait to preform in front of visiting middle school students from the D219 feeder schools.
"I know this event will be a lot of fun and a great learning experience. Not only for me, but for the middle schoolers coming as well," Pop said. "I have been practicing a lot at home and of course rehearsing with the band, too."
Justin Johnson, the assistant jazz band director, is ready for everyone to see how hard the students in jazz band have been working for this big performance.
"This concert is the last jazz band concert of the year, so for all of the senior members, it's their last big performance. Since jazz band will actually be offered as am class instead of an elective next year, this is also a big send off towards that as well," Johnson said.
The concert will last about an hour, so be sure to come and check out jazz band and their special guest as they perform a variety of different pieces.