Niles West to Make a Stand Against Racism Friday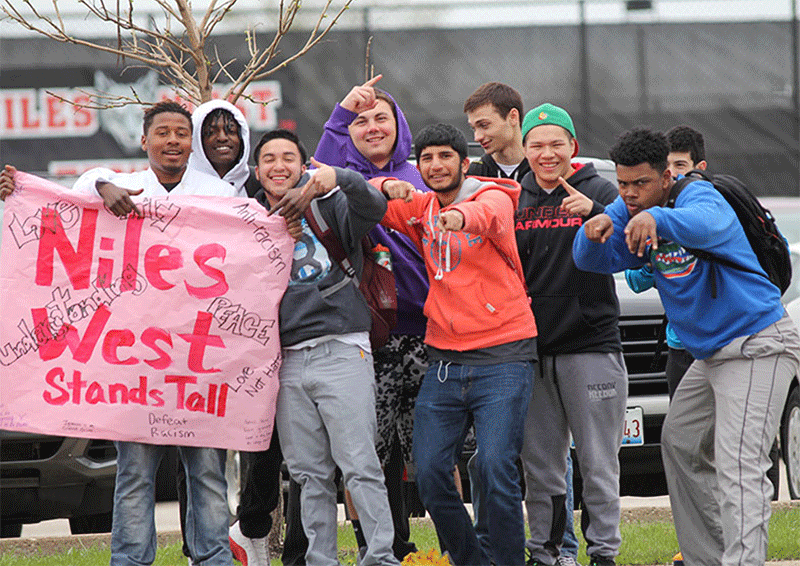 By Farheen Khan
April 27, 2017
In an effort to promote equality and acceptance, Niles West students and staff members will participate in a Stand Against Racism during a 25-minute extended homeroom on Friday, April 28. Students and faculty members will form a circle around the driveway of the school and hold up posters to show their support and to stand in solidarity with each other.
The Stand Against Racism (SAR) event is partnered with the YWCA in Evanston and the national YWCA, and sponsored by the Students Organized Against Racism (SOAR) club at Niles West. The goal of the YWCA, according to its website, is working towards "eliminating racism [and] empowering women."
Interim director of equity Alana Laury feels that SAR promotes cohesion and unity between members of the school community and highlights that the first step to changing something is facing it head on.
"It is important for D219 to participate in the SAR because it promotes acceptance and solidarity. In the words of [author and social critic] James Baldwin, 'not everything that is faced can be changed, but nothing can be changed until it is faced,'" Laury said. "The purpose of the event was to create a space during homeroom for teachers to have discussions with students leading up to the event about racism. The walk out [on Friday] is the culminating event to all of the activities planned."
While some see this event as a liberating experience that can spark conversation and change, others, such as senior Saba Shalwani, don't see it the same way.
"Personally, I feel like this is unnecessary because a protest or a walkout isn't going to change anything," she said. "In my opinion, if you want change, people need to change their actions and opinions."
Other students appreciate the unity Stand Against Racism promotes within the school.
"I think Stand Against Racism is important because it encourages us to stand for what we believe in in a positive way," senior Kristeen Bebla said.
Niles West will follow the 25-extended homeroom schedule on Friday.