Teacher Thursday: Steven Katz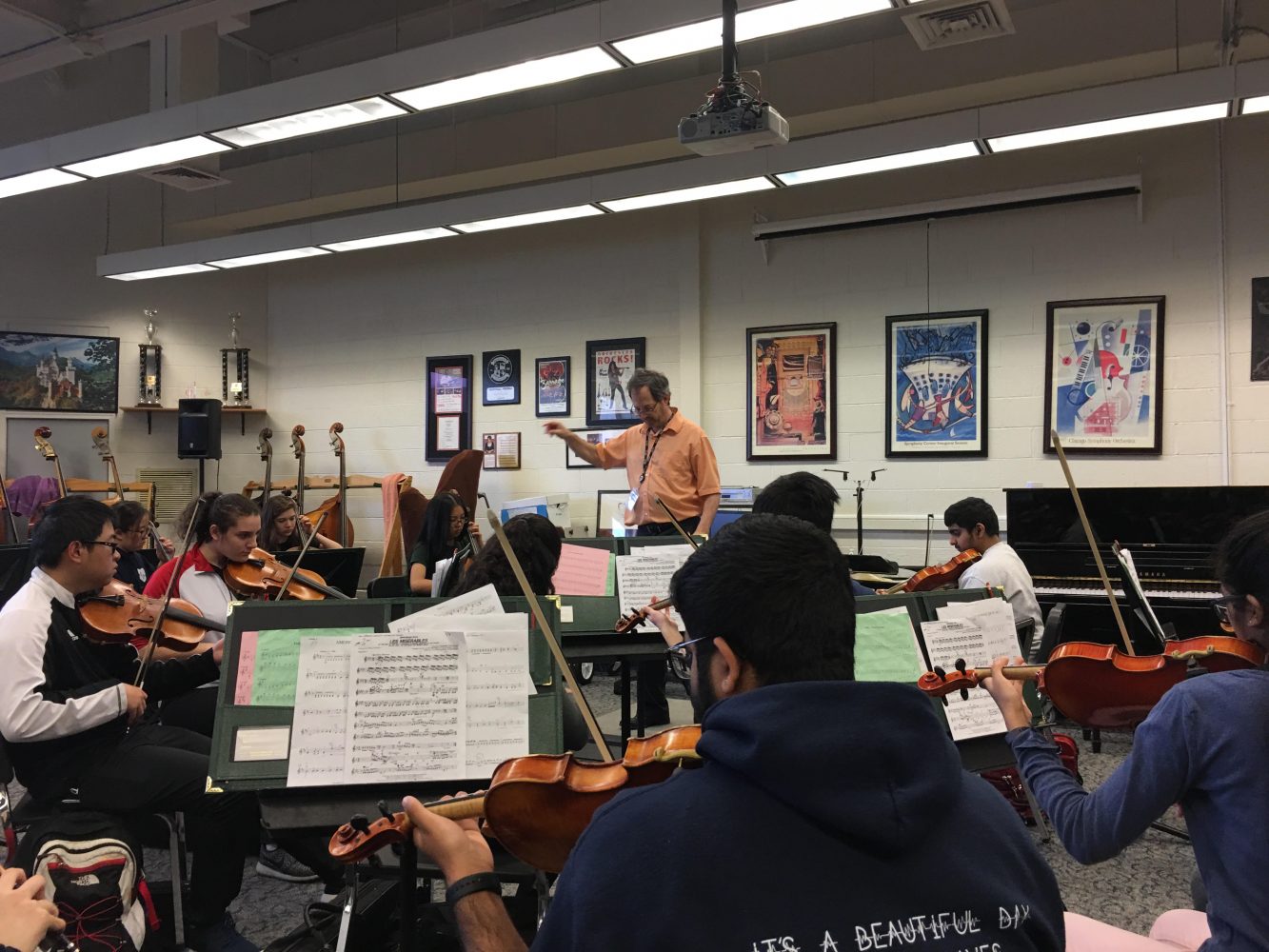 By Inana Zomaya
April 27, 2017
As the annual Pasta 'n' Pops event approaches, so does Mr. Steven Katz's last orchestra concert. It's important to give Katz the spotlight one last time and reflect on his career as Niles West's orchestra director for the past 28 years.
He's met many great people, and seen many students improve since they came to Niles West. Although he's done a lot for this school, he doesn't worry about who will be replacing him next year.
"Niles West has a long tradition of excellence in the arts, and I am sure that the new director will continue to develop and grow the orchestra program," Katz said.
Just because Katz is retiring doesn't mean he'll be stopping his career with music.
"I hope to continue conducting orchestras and working with students in some way, but I'm still working out the details on this.  I will definitely be doing more playing, both on bass and on guitar," Katz said.
Conducting orchestra isn't the only thing he plans on doing after retiring. He has other plans as well.
"I plan on traveling and volunteering, as well as spending time with family," Katz said.
Katz always shows a deep respect for students, and although he also holds them to high standards, he makes sure they are having fun in class, meaning many orchestra students enjoy being in his class.
"I'm gonna miss his stories and jokes. He's a very interesting teacher," senior and orchestra student Alicia Lee said. "It's always a pleasure to have him in the morning for class."
Katz really loves orchestra and music, as well as seeing others improve. When asked what he'll miss most about our orchestra, he said he'll miss "creating great music with fantastic kids."
Even though he signed up for retirement six years ago, it's sad to think about how quickly time passes, and how much time we have left with him as our director. But he's not worried about how his students will fare with a new director.
"I think the students will be fine. The new teacher, whomever it will be, will be different, but I am sure that they will bring in a wonderful teacher and musician who will be committed to making great music," Katz said.
Katz isn't just a person who directs an orchestra. He's the person that has been holding the orchestra family together for all these years, and only time will tell if his replacement will be able to do the same thing.
Thank you for all that you've done at West, and all the the amazing experiences you've given us orchestra students, from taking us on a trip to Costa Rica, to having a concert with all three orchestras combined for one big concert. You've made a big family, and we appreciate all that you've done to inspire our love for music and to make our lives richer.