Changes to West's Stand Against Racism Event Receive Mixed Reviews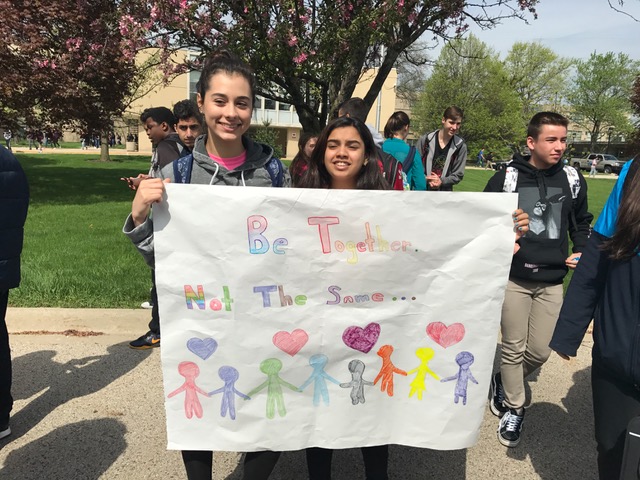 [youtube]https://youtu.be/jTKum3FRqhM[/youtube]
The third annual Stand Against Racism was held outside the school during the extended 25-minute homeroom on Friday, April 28.
During last year's stand, which was 45 minutes instead of 25, West lined up along Oakton Street with homerooms holding up signs emphasizing racial equity. This year, students lined up along the school's inner drive where many students said they felt their message wasn't heard by the community.
"All we did was walk in our parking lot, which didn't show anyone our support," junior Kayla Figueroa said. "It just felt different. If we actually went on Oakton, people driving in their cars would know where we're coming from and see us. It would have been much more meaningful than what it was."
Sophomore Andrijana Sajic agreed.
"I feel like nothing really happened since it was all so fast," she said. "It would have been better if we had more time and walked on the street so that more people could see us."
Assistant principal for operations Mark Rigby explained the reasoning for the change.
"Oakton Street is a main road and presents a safety issue. We are not comfortable with our students lining up along Oakton for that reason," Rigby said.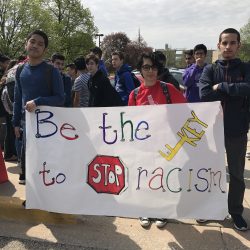 While the school's safety concerns are valid, English teacher Tamara Jaffe-Notier thought that it was odd that elementary school children in Evanston lined up on Ridge Avenue for their Stand Against Racism.
"I think that the 'safety concerns' are overblown," Jaffe-Notier said. "Evanston elementary schools lined up along both sides of Ridge Avenue on the same day for the same purpose. I think that as high school students have a greater level of maturity than elementary school students, and I am confident that given the chance, our students would be at least as safe as the elementary students."
Despite the restrictions, many students used this as an opportunity to better themselves and represent their school in a positive way.
"Everyone needs to stand against racism because it's an important topic," freshman Kristianna Bliznakov said. "In a school district as diverse as ours we need to do something about what's going on."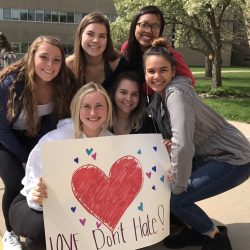 There were also some students who thought the stand was a nice gesture, but didn't feel that it had an impact in any way.
"I believe in the idea behind this and I love how Niles West wants to promote its diversity," sophomore Loredana Lohan said. "But just standing isn't a good was to represent the problem and our school. We should actually march or protest and actually do something."
Niles North students, who also participated in the district-organized Stand Against Racism, held a student-led walk out later in the day to protest racial inequities.
Though students had mixed responses toward West's event, most faculty agreed on the importance of raising awareness for racial equality.
"I like the idea that this is unifying the school for an important cause," English teacher Jody Weatherington said. "The theme [embracing the feminism in racial equality] is great because feminism historically has been a white movement. Recently, there has been a movement within feminism to give voice to the women of color that are fighting for equality."
About the Writer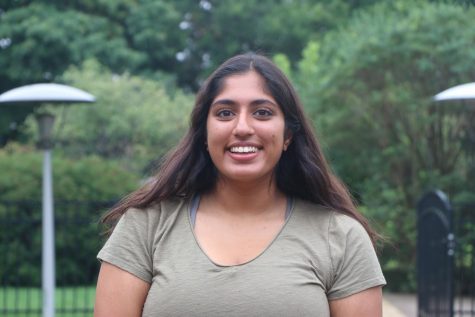 Divitya Vakil, Editor in Chief
When she's not writing for the NWN, Divitya can probably be found on the nearest couch taking a nap or binge-watching movies on Netflix. She loves playing...