West Students React to NFL Draft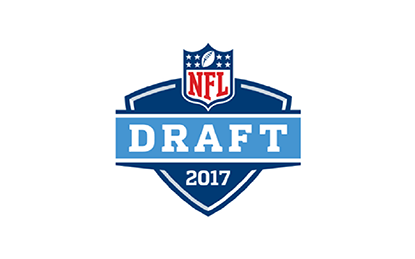 By Tristan Nush
May 8, 2017
The NFL draft has quickly finished up and depending on which team drafted who, people are either praising the general manager and his genius decision or cursing him out wondering what he was thinking.
This year that general manager who made all his fans groan out loud was our very own Ryan Pace of the Chicago Bears. He moved up from the third overall pick in the first round to the second pick by giving up a few third rounders. The Bears ended up picking Mitchell Trubisky, a quarterback that was a backup his first two years at North Carolina, and as a junior, he did not play a lot at all.
Sophomore Reuben Abraham strongly dislikes the pick the Bears made.
"Mitchell Trubisky is so overrated, I've never seen anyone rise up the draft boards that was so bad. He isn't even the best quarterback in the draft, which would be DeShaun Watson. Not only the Bears took a not-so-great quarterback, they didn't pick the best quarterback. Watson is a proven quarterback making the national championship twice against the great defense of Alabama, but we picked the quarterback that led his team to an 8-5 record," Abraham said.
There were a couple steals in this draft like Reuben Foster who was projected to go top ten in the draft but dropped into the San Francisco 49er's lap at pick 31. There also was Forrest Lamp who is arguably the best lineman in the draft falling to pick 38 and there was Jeremy McNichols a running back picked in the fifth round and he could theoretically become the starting running back for the Tampa Bay Buccaneers.
Freshman C.J Belen believes DeShaun Watson could contend for rookie of the year.
"DeShaun Watson has landed in the perfect spot. He is in a perfect position with plenty of teammates like DeAndre Hopkins and Braxton Miller with the former quarterback managing to get 1,000-yard seasons despite average quarterbacks like Tom Savage and Brock Osweiler. He also has a top defense to bail him out in case he struggles," he said.
Sophomore Allan Yourmaren thinks this draft is not one that will go down in history.
 "There are a few players who are franchise players, let alone game changers. This year's first overall pick Myles Garrett has a very high chance of not living up to expectations because although he has the tangibles, he is too lazy on the field and never jumps out of your screen like Jadeveon Clowney or JJ.Watt," Yourmaren said.
While most people agree this draft probably will not be one of those legendary draft classes people talk about for years, some think it has the potential to be a decent class, but some others have a different opinion.
These draft decisions have a lot to prove to the rest of the league as well as to their fans to show why they were the correct choice for their team in the NFL draft.