If You Really Knew Mikey
By Maggie Wibright
May 31, 2011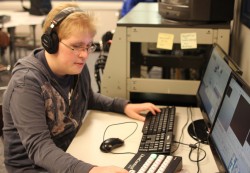 "Hello Youtubers" are the first classic words you hear while watching Mikey Undas' Bongo Lessons on Youtube. He opens the lesson, sitting in his black leather chair in the basement of his house, camera aimed directly at him while he's complete with his simple set of bongos. As Mikey goes through his lesson, focusing on varied styles the Bongos can be used for, he takes his time guaranteeing every one of his audience members understands his teachings. Mikey likes to take time out of his own day to help benefit others of what he has already mastered. Finally, Mikey sums it all up for his "students" and encourages viewers to keep watching his videos, which, indeed, they have been.
Mikey Undas grew up in Niles. He's owned a fish, gone to Culver, and loves to eat hot dogs. For the past five years, Mikey has dedicated himself into working on his Youtube pages, rockmike93 and rockmike2012. Here, he is able to put up anything he wants. Being named the "Most Likely to be the Next Youtube Star" by his classmates in the senior survey is fitting for Mikey, since some of his videos have a couple thousand views already. The most amount he's ever had is his first Bongo Lesson, with about 28,000 hits! Videos of his range from the infamous Bongo Lessons, to him singing hard rock songs, to even an extra credit Spanish Lesson. But the one thing Mikey really enjoys doing on Youtube is composing his own music.
Music has been a key part to Mikey's life. He claims to have taken all of the Fine Arts Music classes that are provided and also takes part in Niles West's orchestra. "He's an amazingly creative person deep down into his soul," says his orchestra teacher, Steven Katz. He started to play the piano when he was three years old, fascinated by every single note. As he began to take up more of an interest in the instrument as he grew older, he decided that playing one instrument just wasn't good enough. He began to spread his captivation over different styles of music, and soon learned he was pretty good at understanding different beats and tunes. This made sense for him, since he now knows how to play the guitar, piano, violin, bass, drums and lastly, the bongos.
Picking up all these instruments wasn't really that hard for Mikey. "Well, I do have perfect pitch," Mikey says, oh so nonchalantly. "I can tell chords just by listening to a melody."  This will come in handy for him when he goes to Columbia College of Chicago, where he says he wants to become a music composer and maybe even a radio broadcaster.
Other than Mikey's Bongo Lessons on Youtube, NWN Broadcasting has also made Mikey somewhat of a celebrity at Niles West. Since only taking up Broadcasting this year, so he could get all his credits, Mikey seems to be a natural in front of the camera. "Doing my Youtube videos helped me anchor," he says. "Sometimes, I can pretty much do it all in one take." Even though Mikey likes having a partner to bounce his humor off of while anchoring, he primarily likes to work alone on Broadcasting projects. "I know what I want," he says.
Youtube helped Mikey realize he liked to edit videos which, later on, lead to the shooting of the famous DECA ice cream commercials. "I didn't know the Decalicious commercial would be that big," Mikey says. As for DECA, you can pretty much say Mikey and the Cow are the perfect mascots. "He is committed to doing his best," says his broadcasting teacher Eric Lueder. "In the future, I'm sure any field he takes up, it will take advantage of his creativity and work ethic."
Mikey Undas may seem like he spends a lot of his time on Youtube, but, in fact, he doesn't. He enjoys riding his bike, playing basketball, fishing with his Dad, using his Wii Fit and also composing and recording songs, which he can do in his personal recording studio that he has in his basement. From the beginning of Mikey's freshman year, to the last day of his senior year, Mikey Undas sure has left an impact on his classmates. He's given them a reason to watch Youtube a little more often. Niles West has many talents walk through their doors, but for Mikey Undas, you can definitely say his is a little more unique.