Two Varsity Girls Niles West Pole Vaulters Qualify for State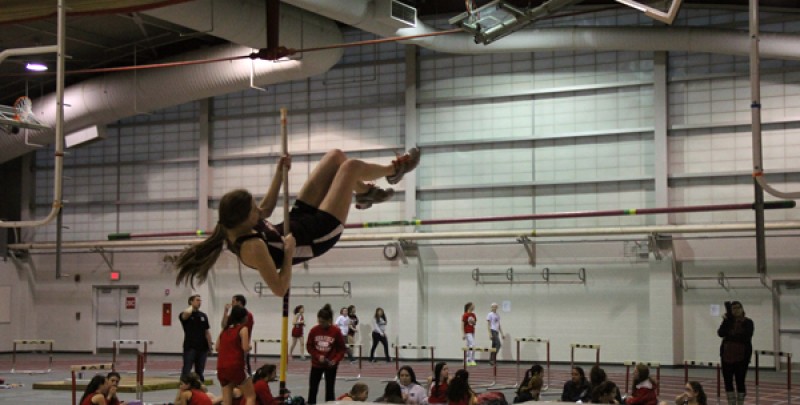 By Tristan Nush
May 18, 2017
Two girls on the Niles West girls track and field team qualified and now have the opportunity to compete at the state competition at Eastern Illinois University on Thursday, May 18.
Senior Nicole Cho, who will be attending the University of Illinois, will be continuing her pole vaulting career there next year. Senior Karina Marin will be attending Washington University at St. Louis, where she will also will continue her pole vaulting career. Both athletes will have the opportunity to compete for a state title for pole vaulting and are very excited to prove what they can do.
Cho started track and field her freshman year and was immediately intrigued by pole vaulting. This year, Cho is relieved to have qualified for state following the pressure of making it last year.
"Last year I was so happy and excited that I made it [to state], but this year before the qualifiers for state I thought I was going to mess up and disappoint everyone who has taken time out of their day to get me better. But my coach Jim Lonergan told me not to worry because during practice I was easily jumping over the qualifying height almost every time," Cho said.
Marin is excited to join Cho at the state competition and is happy that all her hard work is paying off.
"Qualifying for state feels amazing. It feels like all my hard work is paying off, and I'm so happy and proud to have this opportunity to represent Niles West down at state. Right now I'm just trying to remain as physically healthy as possible right now and focusing in on only one or two important things during practice that can give me those extra few inches," Marin said.
Coach Lonergan believes it's important to have both athletes set goals for themselves, and he tries to give them the best advice he can before important meets.
"I can only give them guidance and suggestions, but ultimately it's up to the vaulter to incorporate what they are learning," Lonergan said. "Nicole and Karina are the ones who are flinging their bodies two feet or more over the height of a basketball rim. If they're willing to do that, I just have to keep stressing the good things they are doing in order to help them trust themselves. Our goal at the beginning of the year was to qualify for state and get state medals, and if their technique is good, then the heights and the medals will come."
Be sure to wish the girls luck as they compete for the state title today.