Deans Warn Students About Vape Pen Abuse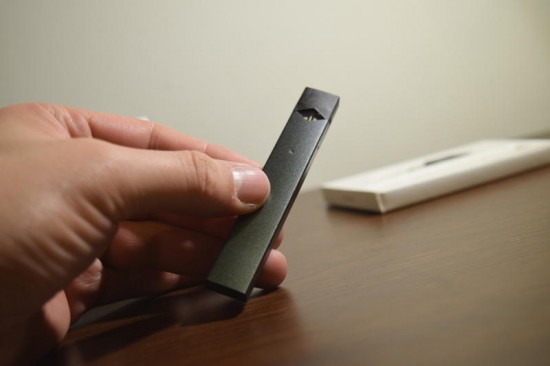 In recent years, vape pens, commonly referred to as e-cigarettes, have seen a massive increase in popularity. In turn, this has resulted in a surge of students reportedly bringing their own pens to school and using them during class or in the bathrooms, prompting the deans to become more serious about cracking down.
According to the Center for Disease Control, the number of middle and high school students who used e-cigarettes tripled in the 2013-2014 school year. The 2014 National Youth Tobacco Survey witnessed an 8.9 percent increase in student use from 2013 (an approximation of 660,000 students agreed to using e-cigarettes in the past 30 days) to 2014 (an approximation of 2 million students agreed to using e-cigarettes in the past 30 days). Middle school students also saw a 2.8 percent increase.
Niles West dean Alana Laury agreed that our school has experienced this phenomenon as well, especially during the second semester of the 2016-2017 school year.
"I don't think there was a big incident [that led to a surge in e-cig usage]," Laury said. "The years before I became a dean, we saw an increase. They've become popular, and they're getting smaller and smaller, too. I think it's just a high school issue that we've seen growing, and we're taking the necessary steps to stop that as fast as possible."
E-cigarettes are composed of a liquid cartridge, an atomizer, and a rechargeable battery. The liquid cartridge is the flavored part of the pen used to create the vapor; it is also the part of the pen that typically contains nicotine. The atomizer heats the pen when the user inhales and is charged by the battery.
A typical argument among students found with pens is that majority of them do not contain any drugs, thus the consequences should be minimal. Though certain pens are free of any nicotine or tobacco, many are not and can be considered tobacco paraphernalia.
"Not all [vape pens] have tobacco, but since it's considered tobacco paraphernalia, it's not allowed on school grounds," Laury said. "When we find them on students, the argument is always that it doesn't have nicotine in it, but I think you have to be eighteen years or older, but that doesn't matter because it's not allowed on school grounds."
The most popular type of pen used by high school students are JUUL e-cigarettes, which are specifically created with former smokers in mind. These pens are created with nicotine salt, the natural state of nicotine when found in the tobacco leaf, and thus give smokers greater satisfaction.
An anonymous senior, who has previously been caught with a vape pen, thinks that the serious attitude is unnecessary, and students should only face consequences if they are purposefully distracting their classmates.
"I think if you have it on you, it shouldn't be that big of a deal," he said. "You're not using it to affect the people around you. If you're being stupid and blowing clouds in class, obviously you should get in trouble. But if it drops out of your pocket, and the dean points at you, like, 'Hey!' then that's stupid."
West's student handbook specifically states that tobacco products — e-cigarettes, vaporizers, or any e-cigarette products such as e-liquid or tobacco — and the possession, display, and/or usage of such products is prohibited on school property and, if found, will result in a Level A or Level B penalty. A Level A penalty includes an administrative conference, parent conference, mediation, a referral to student services personnel, and/or confiscation of the contraband. A Level B penalty includes a before or after school detention, an extended detention, restitution, an assignment to the BAC, attendance probation, police referral, and/or social probation.
Students who are found with a vape pen will have the pen confiscated and are likely to receive a citation from the Students' Resource Officer, although the punishment is ultimately dependent on the situation.
"If you're found with a vape pen, we do confiscate it," dean Amy Tucker said. "More likely than not, you will receive a citation from our School Resource Officer, but it does not always happen because every circumstance is different, so we really take into account different situations."
If a student receives a citation, then the consequences from there are decided upon by the judge.
"The citation requires you and a parent to go to court, and the judge kind of determines what happens from there, whether it is community service, whether it's tobacco education, or even substance abuse counseling," she said. "Ultimately, the judge determines what happens. There could be a fine to be paid. It really depends on the circumstance, which judge, and what they decide to do."
Another senior, who wished to remain anonymous, thinks that the deans' reasoning is reasonable due to the nicotine found in the pens.
"A lot of people vape. Before school, during school, and after. They usually do it at home or while driving to school," the student said. "It's a valid reason. You have to be 18 to use nicotine. The fact that the deans don't want us using it is good. For most of the people who vape, their parents don't know."