West Welcomes the Great American Eclipse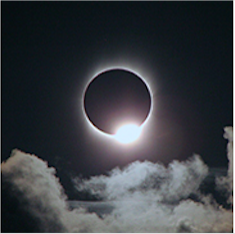 On Monday, August 21, Niles West students and staff will have the unique opportunity to witness the "Great American Eclipse" — a total solar eclipse that will cross the United States from coast to coast. The last eclipse to do so occurred in 1918, and the Niles West science department and Niles West Astronomy Club have organized a school-wide viewing to allow all students to experience this rare cosmic event.
A total solar eclipse occurs when the moon passes directly between the Earth and the sun, blocking all sunlight from reaching our view. Total darkness will only occur along the 'path of totality,' so people viewing from Skokie will only be able to see a maximum eclipse of about 88 percent, which will occur at around 1:20 p.m.
Biology teacher Anthony Serafini explained that viewers will be able to experience many changes as the eclipse unfolds.
"Students should expect to see a noticeable difference in the temperature around the time of the eclipse. It is also possible there will be an increase in the wind," he said. "Several biology classes are going to investigate if there is a difference in animal behavior during the eclipse. In the short time we will be outside during 7th period, it will go from the sun starting to dim to it being dark outside. It should be a very surreal sight."
Niles West will be operating on a special schedule, with slightly shortened periods in the morning, and lengthened periods after the eclipse. Seventh period will last only 25 minutes, and students will exit the building at 1:05 p.m. with their seventh period classes to view the eclipse. Reentry will occur at 1:35 p.m., and students should proceed to their eighth period classes.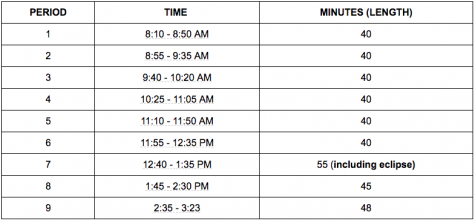 Serafini and astronomy teacher Elizabeth Ramseyer played crucial roles in organizing the event for the entire school. The science department also created a special website which includes lesson plan ideas, an informational video and safety page created by Niles West's Astronomy club, a link to a livestream of the eclipse by NASA, and other resources.
To both science teachers, there was no question that the whole school needed to be involved.
"I can remember viewing a partial solar eclipse in elementary school in 1984," Serafini said. "All of the students in school had made pinhole viewers and we all watched together. I still remember how cool it was to see the eclipse in my shoebox viewer surrounded by my friends. When we started talking about this eclipse in December and January, I knew we had to get the entire school out to view this event together."
As an astronomy teacher, Ramseyer is especially excited about this event. Unlike most, though, she has been anticipating this particular eclipse for nearly 18 years.
"I have been planning for this event since 1999, the year my son [[recent alum Conor Ramseyer]] was born," she said. "I realized then that he would be going to college on or very near to the day of the eclipse."
Because the eclipse holds so much significance for her, Ramseyer will be traveling to Missouri to view it in totality. According to Ramseyer, viewers in Skokie may also be able to see Venus and Jupiter appear as stars to the right and left of the sun respectively.
In class, most students should have already been informed of the necessary safety measures when viewing the eclipse. However, viewers should again be warned that looking towards the sun during an eclipse for even a few seconds can have serious effects, including damaged retinas and partial or complete blindness. There will be a number of special solar shades available, and many classes have constructed pinhole viewers to safely view the eclipse.
West students are fortunate to have the opportunity to view the eclipse as a school, especially since many districts across the country have cancelled school or have said they will not allow students to view the eclipse for safety reasons.
For many educators, this approach is disheartening, especially because the eclipse provides such a rare learning opportunity for students.
"It is unfortunate that some school districts are treating this event like it is extremely dangerous and keeping their students inside," he said.
Despite the possible dangers of the eclipse, senior Christopher Rohn is happy to be able to see it during school.
"It's going to be an amazing sight," he said. "Just be careful and you'll be fine."
As long as students follow the necessary safety measures, they should be able to enjoy this celestial event without any fear. As Serafini contends, the event is truly a once-in-a-lifetime opportunity.
"An eclipse of this magnitude has not crossed the entire United States for almost 100 years. The next time it will cross the United States similar to this year's eclipse will be 2045 and then 2099. Neither of these next two eclipses will cut across the United States like the one on Monday."
Be sure to stay safe and make the most of this awe-inspiring occurrence.