Freshman Friday: Elianna Scalero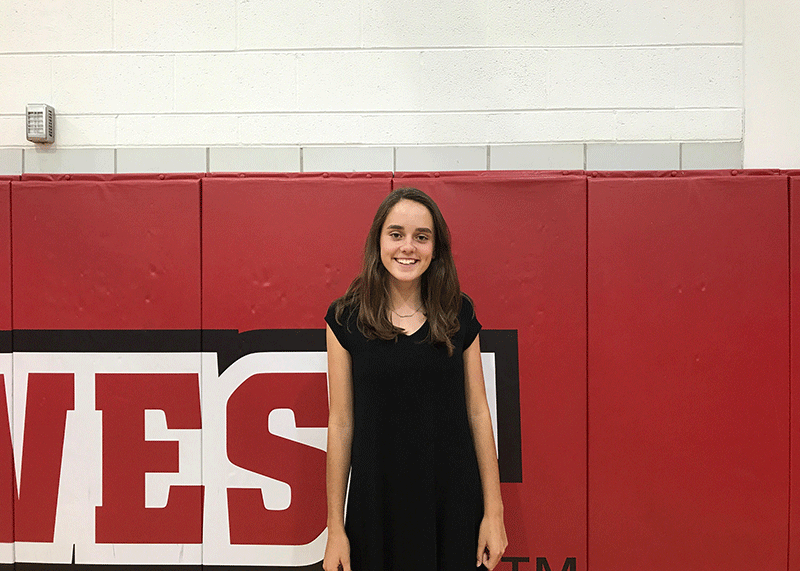 Many people have superstitions, especially when it comes to their sports. Elianna Scalero is one of those people. Before this year's volleyball tryouts, the freshman fell asleep while hugging a volleyball in the hopes that it would help her make the varsity team. In truth, it was her hard work and dedication toward the sport that makes Scalero a powerful varsity player this season.
Scalero is the youngest of four siblings, and she found her love for volleyball while playing two-on-two sets with her siblings in their front yard. Starting the sport at such a young age gave Scalero plenty of time to focus on the techniques and key skills that make her such a unique player.
"As we played two-on-two volleyball, I learned ball control," Scalero explained. "Since I was small, I didn't get many chances to hit, so I would always be passing. I loved having a commonality with my older siblings. It was an activity we all enjoyed and could do together."
Last season, Scalero had a minor setback because she broke her ankle, but she's back and better than ever this year. For such a young athlete, she has a generous amount of goals for the upcoming season.
"My personal goals this season are to work on using my block to my advantage, hitting harder, learning and using different shots, learning how to do a jump topspin serve, and reading hitters arms while [they're] hitting," Scalero said.
Even with her friends and family supporting her on the bleachers, Scalero was glad to have her older sister, senior Natalie Scalero, on the court with her.
"Having my sister on the team is a real blessing and a bummer. She pushes me to be better and it's a good way to bond as sisters, but the bummer is she got the height genes, and I didn't. At first it was hard for me to adjust having her around all the time but now I see how helpful it is to the program to have another talented player who's only just a freshman," Natalie Scalero said.
Being the only freshman on the varsity team meant Elianna Scalero wasn't going to be familiar with most of the girls. Fortunately, she has already developed friendships with her teammates.
"Every time my teammates see me in the halls they yell 'Freshman!' and always ask me to do crazy things for initiation. I have only done one of their requests so far, which was to stand in the sunroof of a moving car," she said.
Being a freshman on varsity has also exposed Elianna to many volleyball role models, such as senior and varsity captain, Nicole Zelazko.
"I have many volleyball role models. This school season Nicole Zelazko has been letting me experience freshman initiation on the team. She is a great team player and has really welcomed me onto the varsity team. She always loves to make me laugh and laugh at me all the time. She appointed herself as my mentor," Elianna said.
Meanwhile, Elianna Scalero's skills and playing style has definitely stood out to Zelazko.
"A young player like Elianna filled with such confidence is so rare to find in young athletes now a days. She's very exciting to watch because it gives you a glimpse into the future of the Niles West girls volleyball program," Zelazko said.
The season may have just begun, but Elianna Scalero wants to make sure it counts.
"I'm really excited for our games and becoming closer with the team. The cheers before the games are nerve wracking and cause rolls in my stomach. I feel like I have to live up to my spot since I made varsity," Elianna said. "I have a good feeling we're going to do good this season."