2017-18 Boys Varsity Soccer Preview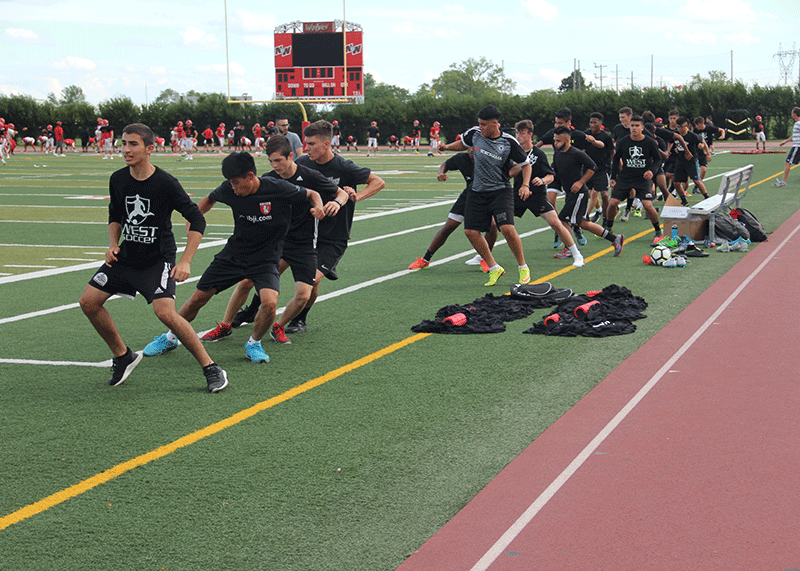 The Niles West boys soccer team kicked off their season with a 2-1 win in their first game against Rolling Meadows this past Tuesday, August 22. The boys are looking to keep the momentum going in the rest of their season.
With a majority of the team being upperclassman, the more experienced players will get a chance to play their last season with the Wolves. The pressure is on for the seniors to excel at their craft in their final days playing soccer at Niles West.
Head coach Milo Cejovic believes the team does have the potential to excel as a cohesive group with the help of some strong independent players.
"Senior goalkeeper Edin Sabovic, senior midfielder Samer Owaynat, and senior winger Andrei Tap will all be key members to this year's team as long as they stay healthy. Edin has great experience with this being his third full year on varsity and second as the number one. Andrei might be the fastest player I've ever coached, and Samer will be the one to watch for. He is very skillful and can change any game that he is focused on," Cejovic said.
Cejovic has been working hard with the team in the summer to get a head start on the season.
"We have a lot of athletic guys, a lot of skillful guys and a lot of committed guys. We have been doing double sessions since August 9th trying to get our game fitness to the standard we need it in order to compete in the CSL."
Junior Nathan Nguyen, with this being his first year on varsity, believes you always have to be ready to make a difference in the game when you get the opportunity to prove yourself on the field.
"You have to be ready to impact the game when you get in because you never know when you will get your shot. You want to show your coach you can help the team win. When you make an impact on the field it's a great feeling and you know that you're part of the team," Nguyen said.
Senior and varsity veteran Ian Shankar is confident with his team's chances to succeed this season in particular.
"I think we are going to be pretty good. We have all been together for four years now, and in the previous three years, we broke the school record for most wins. I think we can do even better this year. Hopefully we can win the regional championship and go really far in the sectional tournament," Shankar said.
The Niles West soccer team's next game is on Thursday, August 24 at home beginning at 6:30 p.m. Make sure to come out and support the guys as they take on Lane Tech and aim to continue their win streak.